Where U At? Powell goes to LeBron's camp
July 06, 2009
by: Dan Tierney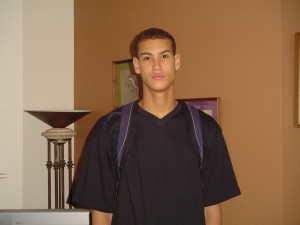 Dwight Powell, a rising senior at the IMG Academy basketball program, is one of the top recruits in the country. The 6-foot-9, 220-pound forward is spending a few days this summer participating in basketball camps, including the NBPA Top 100, Amar'e Stoudemire Skills Academy and LeBron James Skills Academy. Powell, also a 4.0 student, will give a first-hand account of the camps throughout the summer.
Day 1 at the LeBron James Skills Academy
It's a Sunday in Akron, Ohio, and I'm back at a basketball camp - this time with LeBron James! We started the skills work phase of this academy, which will last for two days. The day itself started out much like the beginning of all the previous camps with gear collection.
Now, I have said in past entries that we receive large amounts of gear at these camps, but nothing compares to the amount of gear that we received here. From shoes to back packs to leather travel bags and enough shirts and shorts to last the whole week, we will all be head to toe in LeBron James for a while.
At around 3 p.m., we set off to the gym. At each of these skills academies -- including ones hosted by Amar'e Stoudemire, Deron Williams, Vince Carter and Paul Pierce - there is a small group of college players who are also working out and being evaluated on a separate schedule. Today, we got a chance to watch some top college players work out in the same environment as us. For example, on the court in front of me, I got to see Duke's Kyle Singler go through the same exact drills that we went through.
As with all of the camps, our first workout was detailed and filled with great instruction. Camps like this really give you a chance to take in some great knowledge. Not many places give you the opportunity to get cheered on by the best players in the nation, and then given instruction by high-up people in the basketball world, like Jay Bilas.
After the workout, we were sent back to the hotel to get ready for the opening banquet. Just to show how big Nike does things, we were first greeted by a fruit buffet and cheese and cracker appetizer display all placed neatly around an ice sculpture of arms shooting a basketball. An ice sculpture!
Once everyone arrived, we entered the banquet hall where we had a buffet style dinner waiting. The hall was decorated with all kinds of basketball and LeBron-related banners and items. While I was I eating, I looked up to see LeBron casually passing through the buffet. He is a beast... that's all I have to say about that.
After most of us finished our meals, Bilas began an interview with LeBron. He showed pictures of LeBron's past accomplishments (the cover of sports Illustrated as a junior in high school, All-Star MVP, Olympic gold medalist and the list goes on) and asking his first thoughts or memories of that time in his life.
It feels good to see a man who has accomplished almost everything there is to accomplish in basketball take the time to look out for the next generation and really care about the future of the game.