IMGWBL Day 10 - Bucs rally in 7th over Mustangs
July 07, 2009
by: IMGAMarketing
The Mustangs played six innings of great baseball yesterday. However, six innings of great baseball was not enough as the Buccaneers put together an eight-run seventh inning to break the tie and win, 12-4.
It was a back-and-forth game until that point, as the teams struggled to pull away from one another and carrying a 4-4 ballgame into the seventh inning. Five hits and three errors combined to allow the Buccaneers to send 12 batters to the plate, eight of them scoring.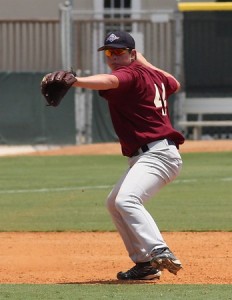 The Mustangs stung right away in the first inning as lead-off man, John Ryan Murphy, singled and was driven in on another single by Chris Dinelli. The Bucs answered right away in the top of the second inning when Carlos Somoza reached on a walk, moved to second on a balk, and scored on a single by Dylan Danko.
The two teams exchanged runs in the third, and the Bucs were able to tie it up in the fourth as they were able to put up two runs in the inning. Danko and third baseman, David Van Horn, both reached on walks and Anthony Dibartolo delivered a timely hit. Dibartolo hit a double to deep left field allowing both runners to come around to score.
The Mustangs looked as if they were going to grab the lead in the sixth when Kirk Dirshel hit a one-out double. After a strikeout, Bobby Hughes hit a hard single of the pitcher's mound and into centerfield. Dirshel was waved around and looked as if he was going to score the go ahead run, but Danko had other thoughts. An absolutely perfect throw by Danko from centerfield beat Dirshel to the plate and he was called out for the third out in the inning.
The Buccaneers brought that momentum to the plate in the top of the seventh. The Bucs started off playing small ball after Chase Aldridge singled and Jack Little bunted him over. A walk and an error after that and three Buccaneers had already crossed the plate. That just opened up the flood gates, and the Bucs were able to string four more hits together along with two more Mustang errors and the game was out of reach. Eight runners came across home plate and the Buccaneers were up 12-5.
With the wind out of their sails, the Mustangs went down 1, 2, 3 in the bottom half of the inning, and slid to 3-6 on the season. The Bucs improved their record to 6-4, good enough for a tie for second place behind the Hurricanes.
Both teams got great efforts from their starting pitching as Roman Lira went four innings allowing four runs and striking out six. Hunter Keatts pitched went six innings allowing just two earned runs and striking out four for the Bucs, while Ramon Lira pitched four innings allowing four runs with six strikeouts.
Click here to view more stats!
In other action around the IMGWBL:
Ospreys 11 11 0
Sea Dogs 1 3 2
WP - Jesus Sanchez - 6 IP, 2 H, 1 ER, 5 SO
Top Performer - Ben Rockwell - Ospreys - 3-3, 2B, 3B, SB, R, 5 RBI
Buccaneers 11 13 2
Mustangs 4 8 4
WP - Hunter Keatts - 6 IP, 2 ER, 4 SO
Top Performer - Anthony Dibartolo - Bucs - 4-5, 2 2B, SB, R, 3 RBI
Lightning 4 5 2
Hurricanes 6 11 2
WP - Cas Dean - 6 IP, 5 H, 2 ER, 9 SO, 1 BB
SV - Nick Mace - 1 IP, SO
Top Performer - Cas Dean - Hurricanes - 2-3, 2B, R, RBI (Winning Pitcher)
Hammerheads 2 8 2
Conquistadors 11 11 1
WP - Scott Quinlan - 6 IP, 1 ER, 3 SO
Top Performer - Shay Mlakar - Conquistadors - 3-4, 2B, 3B, 3 R, 2 SB
Complete Standings:
Team W-L GB
Hurricanes 7-2 -
Ospreys 6-4 1.5
Buccaneers 6-4 1.5
Sea Dogs 5-5 2.5
Conquistadors 4-5 3
Hammerheads 4-6 3.5
Lightning 3-6 4
Mustangs 3-6 4