Academics Looking to Complete Sweep Over Kraze
July 08, 2009
by: IMGAMarketing
The Bradenton Academics at IMG Academy are one of nearly 70 teams from around the country representing the United Soccer Leagues in the Premier Development League, which mainly consists of college-age players. The league will run throughout the summer.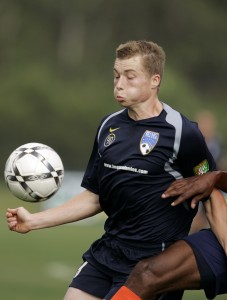 The Bradenton Academics (8-2-4) will travel tomorrow to play the Central Florida Kraze (4-6-2), a team they have already beaten three times this season. The teams last played on June 25th, when Bradenton rolled to a 4-0 win.
The Academics has stumbled since that game, playing to a 2-2 tie against the Nashville Metros last Friday, and losing to the Atlanta Blackhawks on Sunday, 1-0. Bradenton (28 points) is holding on to a two point division lead over the Mississippi Brilla (26 points).
The Bradenton offense has struggled finding the back of the net this past week. Despite taking 13 shots in the game, the Academics could not put one up on the board until the 58th minute and did not tie the game until stoppage time.
On Sunday, the Blackhawks shut out the Academics, something that has happened only three times this season. Bradenton forced Atlanta goalie, Woszczynski Carl, to make eight saves, but could not sneak any by him.
Bradenton will look to get back on track tomorrow against the Kraze. The season series has been very physical and the Academics offense has dominated. The Kraze have yet to score a goal against the Academics, after being shut out by a combined 9-0 margin in the three games.
The Academics have displayed great ball control against Central Florida and outshot the Kraze 21-4 in their last meeting on June 25th. This will be the season finale between the two teams and Bradenton is looking for a sweep.