Where U At? Day 4 at the LeBron Skills Academy
July 09, 2009
by: Dan Tierney
Dwight Powell, a rising senior at the IMG Academy basketball program, is one of the top recruits in the country. The 6-foot-9, 220-pound forward is spending a few days this summer participating in basketball camps, including the NBPA Top 100, Amar'e Stoudemire Skills Academy and LeBron James Skills Academy. Powell, also a 4.0 student, will give a first-hand account of the camps throughout the summer.
Day 4 at the LeBron James Skills Academy (King City Classic)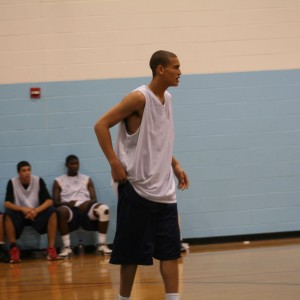 Day four brought game day. I should actually say "games" day. With three scheduled games, we woke up with a bit of a challenge in front of us. Our first and second games were both seeding games to determine the championship and consolation brackets.
These games were set to be played at Cleveland State University's arena. It was a great venue with two courts, a waiting area for players, a media seating and interview area, and plenty of seating for the many friends, family, and coaches who came to watch.
Unlike at the skills academies, the King City Classic didn't just have members of the media, but there were also tons of college coaches. There was at least one coach from almost every major basketball program in the country, which can be good and bad. I don't think anyone was nervous, but you can definitely see a difference when certain players are trying to impress. Thankfully, my team remained unselfish, even though we lost both of our seeding games.
As I said yesterday, everyone at camp will get the same total minutes played when it's all said and done. It can get frustrating at times, but it exposes how players who are used to playing from start to finish do coming off the bench.
One interesting thing was throughout the day, different players were pulled aside for interviews with different members of the media. Whether it was local newspapers, national writers or Internet sites, players were getting extreme exposure.
The third game of the day was the first game of the bracket. My team was seeded 7th, so we played the No. 2 team. We kept to what we had been doing from day one, and won as a team this time. Even though these types of events are mostly about evaluation, I hate losing, so finishing the day strong felt great!