Gametime....IMG vs. Dallas Texans
July 10, 2009
by: IMGSoccer1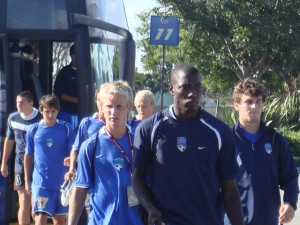 25 minutes til kick off......a focued warm up has begun. 78 degrees, slight wind, sun shining.
The Starting line up:
Goalkeeper: Larry Jackson
Defence:Chase Miller, Ambry Moss, John Rayha
Midfield: Martin Ontiveros, Jorge Risquez, Miguel Medina, ALex Walters, , Reienado Brenes
Forwards: Andres Acevedo, Benny Barshai
Kickoff 0:00
Texas kickoff, stolen by Alex Walters, thru ball to Acevedo , out of a IMG throw in.
2:00: Hard Texan found on Rienaldo Brenes, IMG Free Kick
5:00: GOAL Texans - SCORE 0-1
9:15:Shot by Barshai ( IMG) just wide for Dallas Goalkick
17:00: Shot by Acdvedo deflected inside Texan goalbox
18:30 Ball out of Dallas Corner kick
20:00: GOOOOOOOOOOOOOOOOOOAL Andres Acevedo (IMG) header. SCORE 1-1
24:00 BIG SAVE BY JACKSON( IMG)
26:30: Penetration by M.Ontiveros, shot by Acevedo, saved by Texans
37:10: Brenes counters down right wing, shot saved
HALFTIME : IMG 1, DALLAS1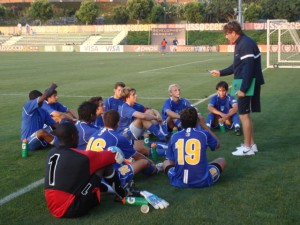 IMG Substitution: Ricardo Batista enters the game for Benny Barshai
45:00 IMG kickoff
47:14: Shot By Brenes ( IMG ) out for a Goalkick
IMG maintians possession ...SHOT By Walters jus wide
IMG Substituion: Forward Fernando Mares in for Miguel Medina
67:35: Shot by Mares saved
69:00: Texans counter, shot stopped by Jackson ( IMG )
70:00:Red Card-Dallas Ejection: Violent slidetackle on Acevedo, Dallas must play down a man for the remainder of the match
72:00: Yellow Card:Caution to IMG ( Brenes)
77:00: IMG Corner Kick
80:00:IMG Substitution: Tyler Currence into the game at striker for Andres Acevedo
90:00;The referee has added 4 minutes of extra time
90+ Dallas corner kick
FINAL SCORE IMG 1 , DALLAS 1