Kickoff, IMG vs. FC Greater Boston 3pm
July 12, 2009
by: IMGSoccer1
IMG Starting Line up: Goalkeeper, Larry Jackson, Defense, Brad Doliner, Jon Eckford, Chase Miller, Midfield, Miguel Medina, Luis Ocejo, Tyler Currence,Ricardo Batista, Alex Walters, Forward, Luis Calzadilla, Benny Barshai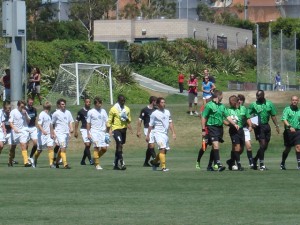 Kickoff 0:00- Boston Possession
00:30- Multiple IMG throw in as Boston pressure in IMG Half
POSSESSION STURGGLE IN THE MIDFIELD
4:45: IMG through ball to Barshai, saved by Boston
5:30: IMG Ball plaed out wide to open Batista, Shot kick saved by boston
8:35: IMG Ball deep in Boston territory, IMG throw in....Cross by Batista, IMG Corner Kick
12:00: Boston Long throw in into IMG box taken out of the air by Jackson
18:00 Penetration down the wing again by Batista, shot deflected by defender
20:20; Foul inside the box on Eckford, Penalty Kick for Boston................SAVED BY JACKSON
24;52, Trough ball by Doliner, Offside ( Calzadilla) Boston Injury on the field
Play Resumes.............
28:13: Luis Calzadilla turns his man, SHOT OFF THE POST, rebound by Barshai, deflected wide for IMG Corner Kick
31:15: Ball stolen in the midfield by Medina, pass to Barahsi ,shot, save.
36:00: Boston counters, shot way wide, IMG Goalkick possessed by Miller
43:00: Barshai is fouled on top of Bostons 18. Clazadilla steps up for the free kick......................shot saved.
Halftime IMG 0, Boston 0
With IMG winning the possission battle, counter attacks are avaiable for both team, 1 goal may be the game winner.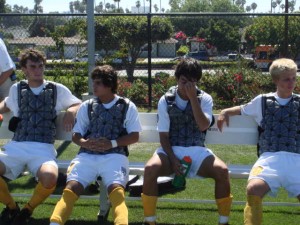 45:00- Kicoff IMG
Second half substitutions: Into the game for IMG, Reinldo Brenes, Martin Ontiveros, Ambry Moss and John Rayha in for Brad Doliner, Jon Eckford, Tyler Currence and Miguel Medina
47:15: Boston Corner Kick.......goalkick IMG
49:30: IMG Injury on the field, Alex Walters is down....Substitution. Jorge Risquez will enter the game for Walters.
57:45: Substituion IMG, Fernando Maresin for Benny Barshai
59:00: Boston Shot, tipped wide by Jackson....out for Boston corner kick, ball cleared
62:00 Rayha plays Batista down the left wing, ball cross and SHOT by Mares ddeflected out for IMG cornerkick
63:00: Corner kick cleared by Boston Bolts
65:38: Goal Boston 0-1 IMG Substitution Atticus Deprospo in for Ricardo Batista
67:10: Yellow Card ( Boston )
69:00: GOOOOOOOOOOOOOOOOOOOAL IMG. Luis Calzadilla IMG 1- Boston 1
74:30: Foul in Boston Territory on Deprospo, Free Kick IMG 20 yards out. Shot wide
88:00- GOOOOOOOOOOOOOOOOOOOOOOOOOOAL IMG, Luis Calzadilla ( second goal of the match ) IMG 2- Boston 1
90:00; 4 minutes of extra time has been added by the official
IMG WINS, IMG WINS, IMG WINS.........2-1 VICTORY!!!