U-18 Boys get Schooled on "Playing at the Next Level"
July 13, 2009
by: IMGSoccer1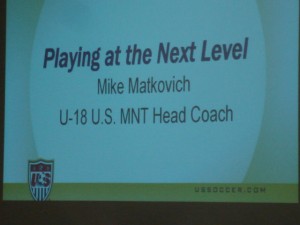 Mike Matkovich, Former Chicago Magic Director of Coaching and current USA U-18 MNT Head Coach woke up this morning to voluntarily take some steps necessary for the youth of this country to excel in the game of soccer. "I want to give you stuff you need as young Professionals," says Matkovich.
The first eye opening fact to the players was, "The guys that make it aren't always the best players."Developing 4 distinctive soccer characteristics, Matkovich says are the first steps to playing at the next level but the little things, such as showing up every day, handling the little things, being on time, being respectful, watching the words that come out your mouth, and people always watching, are equally important.
What is next for the USDA Athletes? College, National Teams, Professional (MLS, USL, Europe), In order to get there, the following bench marks need to be met.
1. Physical Strength: What are your pregame and gameday warm ups like? Have you been eating the right foods before you play and are you well hydrated. After you play, regeneration is key. Ice baths and post game stretching assist in the body's recovery. What do you do when no one is watching? Extra stretching increases flexibility and as you get older, that becomes more and more important. Matkovich recommends getting into YOGA. The boys had a good laugh but he was serious. All this will aid in the prevention of injuries. Being fit is always a must!!
•2. Technical Strength: From position to position, technical strength will separate you from the crowd. As a midfielder, can you play in and out of difficult spot? Can you play 1-2 touch. Every team needs a dead ball specialist. Practice Practice Practice. As a forward can you hold the ball for your team? Do you finish your chances?
•3. Tactics: Every athlete must learn to play within a team concept. Learning to adapt to any style of play and formation will make you a more valuable player. Are you in the game "tuned in" for 90 minutes? Are you versatile? Can you play both ways? Many players today only play "their Position" A great example of a versatile player was watching the USA vs. Spain match. Landon Donovan andClint Dempsey, got behind the ball almost ever play to help defend. The Result, a win for Team USA because they stuck to the team plan, and not their own agenda. As a defender, can you play long balls, can you make it difficult for the other team to play. A good defender has good foot skills.
•4. Psychological Strength: The mental game is as important is not more important to master as the game itself. Aspiring professionals need to ask themselves, Can I deal with critics? Can I overcome setbacks in my career such as not being a starter or coming back from an injuryDo I understand what it means to compete, to win, to fight, to give it all I have for the goal of the team? Do I worry about the things that I cannot control? A strong mental capacity will make you a better physical player
Matkovich has some final advice for the guys before he left.
•1. Form good habits ( extra fitness, always at practice,)
•2. Set realist goals
•3. Work hard at your craft.
•4. Be honest
•5. Be a "good guy" in the locker room
You can't get much better advice than that on what it take to get to the next level. Another morning of Player Education came to a close with hope that these young stars of tomorrow will take what they have learned and run with it.