IMGWBL Day 14 - Yates, Hast carry Lightning over Hammerheads
July 15, 2009
by: IMGAMarketing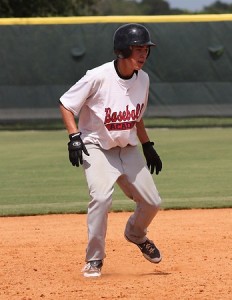 The Lightning were able to quiet the Hammerheads bats yesterday, and cruised to a 5-0 victory.
Jackson Yates took the ball for the Lightning and threw five very solid innings allowing only three hits and striking out two. Yates got some support offensively off the bat of Dylan Hast. Hast hit two doubles, scored a run, and knocked in two on the day.
The first run for the Lightning came after Hast hit a leadoff double in the second inning. He moved over to third on a fly ball to right field by Yates, and came across after a wild pitch made its way to the backstop.
The Hammerheads threatened in the top half of the third inning after Ryan Maddox knocked a double of his own, with just one out. He would reach third on a pass ball, but did not score after Yates got the next two batters to pop out.
The Lightning were benefiters of some two out magic in the fourth. The Lightning had runners on first and second after reaching on two walks. Hast then came through again launching his second double of the game deep into the left field corner, which allowed both runners to score. An overthrow at first base then allowed Hast to come around and extend the lead to 4-0.
The Hammerheads once again threatened in the fifth inning, but could not get any runs across the plate. With runners on second and third with just one out, Yates was able to escape the jam, retiring the final two batters of his outing on a fly ball and a strikeout.
Tim Hodgson came in for relief for the Lightning, and did so in great fashion. Hodgson went two innings allowing just one hit and forcing four fly ball outs.
In other action around the IMGWBL:
Sea Dogs 4 10 2
Conquistadors 13 17 2
WP - Dusty Tatum - 5 IP, 1 ER, 4 SO
Top Performer - Michael Suchy - Conquistadors - 3-4, 2B, 4 RBI
Buccaneers 3 8 0
Hurricanes 4 11 2
WP - Cas Dean - 6 2/3 IP, 2 ER, 6 SO
Top Performer - David Van Horn - Buccaneers - 3-3, R, 3 RBI
Ospreys 6 9 1
Mustangs 2 6 3
WP - Robert Ganzenmuller - 5 2/3 IP, 4 H, 1 ER, 5 SO
SV - Anthony Conte - 1 1/3 IP, SO
Top Performer - Carlo s Arocha - Ospreys - 2-2, 3 SB, R, RBI
Hammerheads 0 4 0
Lightning 5 5 2
WP - Jackson Yates - 5 IP, 3 H, 0 R, 2 SO
Top Performer - Dylan Hast - Lightning - 2-2, 2 2B, 2 R, 2 RBI