Game 4, IMG vs. Real Colorado
July 16, 2009
by: IMGSoccer1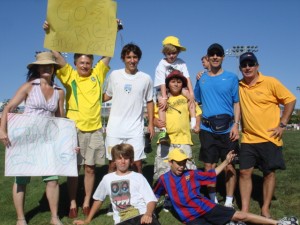 WIth an all Senior starting line up today vs. Real Colorado, the IMG U-18 boys quest to leave their mark in IMG history and the USDA Finals.
Starting for IMG: Goalkeeper, Larry Jackson, Defense, Brad Doliner, Ambry Moss, John Rayha, Jon Eckford, Midfield, Alex Waltes, Luis Ocejo, Tyler Currence, Miguel Medina, Forwards, Benny Barshai, Luis Calzadilla
Subs: Martin Ontiveros, Chase Miller, Atticus Deprospo, Fernando Mares, Reinaldo Brenes, Jorge Risquez, Andres Acevedo
84 Degess, Sunshine, Slight breeze.
5pm PST/8pm EST Kickoff 0:00 Real Colorado Ball
2:30: Shot by Calzadilla out for an IMG corner kick.....cleared by Colorado, IMG throw in
3:35: Currence is fouled 35yards out, Free kick played into the box....missed header by Barshai
5:20: Colorado is fouled onto IMG Box: free kick......shot wide, Goalkick
IMG Balls deep in Colorado territory.......throw in taken by Currence
17:00: Colorado is contoling the tempo...ball played down the left wing, failed cross attempt. IMG Goalkick
24:00. Ball stoled by Moss, Coutner and shot by Ocejo....save
29:45: Shot by Walters, easy save for Real Colorado
33:15 Free Kick attemt for IMG...Calzadilla steps up..........save.
41:40: Hard tackle made by Eckford, Yellow card. Free kick Colorado, Cleared by Walters
42:10, Shot by Ocejo, save
HALFTIME IMG 0, Real Colorado 0
45:00 IMG kickoff
47:00: Eckford overlaps with the right wing.....crosss, header by Barshai, just over the cross bar.....goalkick
50:10: 50/50 ball won by Walters ontop of Colorado box...shot, just wide!
51:30: Colorado coutners.....shot inside the box...BIG SAVE BY JACKSON
52:50: IMG corner kick, shot by Calzadilla wide, Goalkick
58:00: IMG Substituion, into the game, Chase Miller for John Rayha
60:15: IMG Sub, Rienaldo Brenes into the game for Tyler Currence
63:00. IMG sub, Jorge Risquez and Martin Ontiveros into the game for Jon Eckford and Luis Ocejo
67:15, Shot by Ontiveros, wide, goalkick
69:30: Penetration by Acevedo, IMG cornerkick.....cleared by Colorado Defence
73:25: Shot by Calzadilla.....Save by Real, IMG CornerKick....Cleared
76:40: IMG Sub...Fernando Mares into the game for Brad Doliner
79:00 Free Kick to IMG 35 yards out....Ontiveros over the ball to serve.....no result
77:00: Ball stolen by Colorado, one on one vs. Walters, shot wide...Goalkick
80:00 Colorado Cornerkick...goalkick
*a tie at the end of regulation will send the match into two 15 minutes halves of overtime. then Penalty kicks.
83:15: Free kick to IMG, Brenes to serve, ball cleared................back into Acevedo..SHOT....save by Colorado
90:00....2 minutes of stoppage time have been added
OVERTIME!
90:00 Kickoff Real Colorado ( This is now Brad Doliner reporting for IMG) Hello to all watching this...ecspecialy the one back in Bradenton.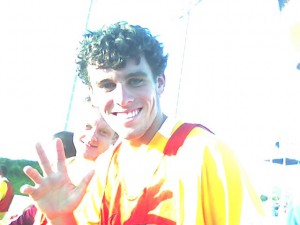 92:00 IMG cornerkick.....HEADER BY BRENES....just over the bar
97:00 Colorado Yellow Card, hard foul on Calzadilla
100:00: Foul on Moss, Yellow card. Colorado has a free kick on the corner of the IMG box, headed out by Walters
112:00 two shots by Mares, blocked by Colorado. IMG corner kick....Header by Mares, too high
114:00. Risquez down the left wing.....crosss.GOOOOOOOOOOOOOOOOOOOOAL IMG....Avcedo one timer!!!!
Second half of overtime
115:00 Colorado Kickoff
117:00: Shot by Ontiveros.....goalkick
124:00 IMG pushes the attack with Acevedo.........possession game for IMG
125:00: Free kick for Colorado at half field
130:00.......2 minutes of extra time has been added
FINAL SCORE...IMG 1, COLORADO 0.