The second chance for Derrick Caracter
July 17, 2009
by: Dan Tierney
Since he entered middle school, Derrick Caracter was a household name in the basketball world. By the time he was a high school senior, Caracter was a consensus top-25 recruit and wanted by most of the top college programs. He chose Louisville and, after a rocky two years, left the program. Next year, he'll play at UTEP as the next step at getting his basketball career back on track.
Right now, he's training with the IMG Academy basketball program and Athletic & Personal Development program, which has trained 2009 draft picks like Earl Clark, Jrue Holiday, DeJuan Blair and NBA players like Kevin Martin, Luol Deng, Courtney Lee and Joakim Noah.
Derrick Caracter on...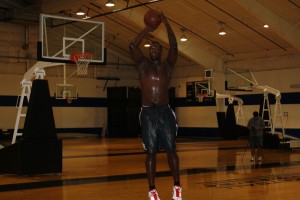 ... the pressures of being a young phenom: I don't think it necessarily put more pressure on me being that I'm from New Jersey, and there's pressure there every day. At home, my life was very strict and scheduled. When I got to college, I just wanted to be normal and do things any college kids would do. It was fun being away from home for the first time. After I left there, though, I saw the reality of it being a business if this is something I want to do professionally - the NBA, not overseas or something. I don't want it so that not taking care of little things keeps me from doing that. You either want it or don't want it.
... the challenge of reviving his career: I like being a sleeper. It brings me back to 7th grade before I had a "name." I'm sure some people expect me to do well, but at the same time, there are a lot more people who don't expect me to amount to what I can. It's just another challenge. It's another opportunity that I'm excited to face.
I'm a big believer in everything happens for a reason. I'm a strong believer in God and hopefully everything will work out. I've been reading books like, "Peaks and Valleys" and "The Purpose Driven Life" just trying to stay positive about all situations.
A lot of people who don't know me think that I'm a bad guy or a thug and other things that are negative. They'll see this year that's not the case.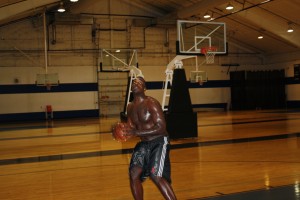 ... his situation at Louisville: When I was there, (childhood friend and 2009 first-round NBA pick) Earl Clark and I had the best two years of our lives. We had late nights in the gym until midnight, one a.m., just getting it in. Off the court, we had fun. Coach Pitino taught me a lot just about acting like a professional. Even if I didn't always do it there, it's stayed with me.
It's something that I was just so stubborn at the time, that I was just going to be me no matter what. I was going to do whatever I felt like doing, but Coach P helped me out a lot.
... being a leader: I've always been a leader and not a dude that can take directions easy. That was part of my problem. Because my name's been out there so long, a lot of guys looked at me to become a leader when I was still young.
We had a great leader in David Padgett. Sometimes the guys didn't like him, but at the end of the day, he was speaking the truth. The way he handled himself on and off the court, I always observed him. Getting to places early. Getting the guys pumped up when they need it. Dealing with different guys different ways.
... keeping in shape: I've always worked hard. When I got to Louisville, Coach P worked me hard, and I lost 50 pounds. I was on like a ridiculous diet and got too thin. I'm around 285 now, but I'm losing weight in a healthy way. Lifting. Running. I'm losing weight, but still keeping my strength.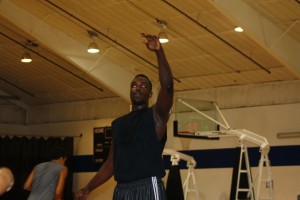 ... how he chose UTEP: I knew of it from "Glory Road." Obviously, it's not called Texas Western anymore. I went down there and took a visit, and they talked about the history of the school, and it caught my interest. They haven't done much for years upon years, but I'm looking at it as a fresh start. The coaches seem great. The guys seem like they'll give me a fair shot at it.
... what he wants to achieve at UTEP: Help my coach. Help the last guy on the team get better. Be a leader. Be the best I can be. I told the guys, "We're going to shoot for the stars." I think we have enough talent; it's just putting it all together. It's exciting. We've got a guy named Randy Culpepper. He doesn't even look human when he jumps. He's got more hops than Nate Robinson, no lie. People are going to see next year that we've got some guys who can play, but they are sleepers because the team hasn't won that many games recently.
... the theory that he has one year to prove himself to NBA scouts: That's exactly how I look at it. I put the pressure on myself. As long as I stay healthy - God willing - I've got one year to prove myself. And I'm going to do it.