From Bahrain to Bradenton: A junior tennis player's experience at the Academy
July 23, 2009
by: Dan Tierney
Up until three weeks ago, A.J. Janahi's closest contact with an ATP or WTA star was watching them from the bleachers of an event or reading about them on the Internet.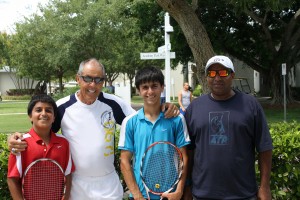 Since the native of Bahrain and his younger brother, Aziz, have spent most of July training at the IMG Academy Bollettieri tennis program, he's trained on a court next to German ATP star Tommy Haas and watched worldwide No.6-ranked Jelena Jankovic practice on the same courts that he used.
"Where I'm from, I never see pros," the 15-year-old A.J. said. "Here, they're just like us. They're just normal players working on their game."
A.J. has played tennis for five years, but recently decided he needs to do something extra if he wants reach his dream of becoming a professional. And after three weeks of training at the IMG Academy Bollettieri tennis program, A.J was selected to return in August as a full-time student.
"When I first came here and saw everything, I told my coach that he was right," A.J. said. "There's everything here. There's everything here to make a player and give you a chance to go pro."
For A.J., who looks up to Novak Djokovic for his game and similarity in looks to A.J., the increased level of competition and full arrangement of services attracted him to enter the full-time program. During his summer stay, he participated in many of the Athletic & Personal Development programs, including physical, mental, nutrition and communication training.
"It's not a one-man show," said his coach Aziz Rasool. "You have specialists in each category, and all work as part of a team. And all of the coaches and staff are friendly. They make you feel at home. Even Nick, with all of the players that he's coached, he doesn't have his nose up. He's the first one to say, 'Good morning' when you pass him."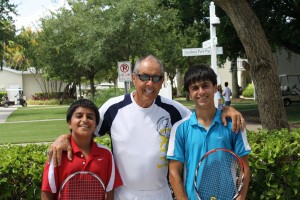 A.J. says that he's looking forward to living on his own, and he's already met other students from places like Brazil, Spain... all around the world. He's even received some one-on-one coaching from Nick Bollettieri himself.
"He's a player-making machine," A.J. said. "I always thought he was a tough coach, but when I saw him on the court, he was very nice."
Soon, the real work begins when A.J. returns to Bradenton, Fla., from Bahrain and starts working toward his goal of first obtaining an ITF ranking, then making it full-time on the ATP.
"My dream is to become a pro," he said, "and I thought to myself that if I want to become a pro, I have to be at the best place to become a pro, and that's here."