IMG Academy Athletic & Personal Development programsDirector, Trevor Moawad, discusses Matt Jones and the NFL
July 25, 2009
by: IMG Performance Institute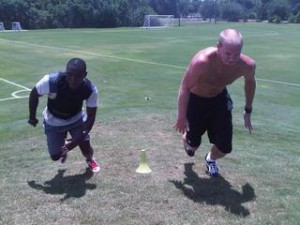 How do you think Matt has progressed since coming to Bradenton this spring?
"Matt has made a significant commitment financially, physically, and mentally to be ready in every sense of the word when the opportunity comes his way. He trained this past week, 4 hours a day, with Ryan Fowler (Titans), Michael Coe (Colts), Todd Johnson (Rams), Cliff Avril (Detroit) and Nick Collins (Green Bay) and stayed this morningto doan extra session in the back hills with Freddy Adu (U.S. Men's National Soccer Team) and IMG Academy Athletic & Personal Development programsperformance specialist Corey Stenstrup.
He's running routes, competing in agility drills up the hill, lifting and squatting every day and also doing the off-field work watching film and meeting with our team of specialists. The session this morning was voluntary and focused on power capacity, metabolics, technique and both incline and linear speed work.
Matt showed up early and finished the week off strong.
Do you think he's ready to join an NFL team?
He's ready. My expectations for him are in line with his expectations for himself. He is coming off a career year and he is still in his mid-twenties - and truly motivated and driven. I believe he will make the best of the right situation. Dave (his agent) is working hard to create the right synergies and explore the best options. I've known Matt for 5 years, but these past 3 months have been the most time I've been able to really watch and see who he is and how he goes about his business. He's clearly talented, but what I've been most impressed with is his respect for our staff and the fact that he is always where he needs to be when he needs to be there.
Teams need to make decisions that are best for their dynamics, but I can't imagine a driven young athlete coming off a 66-catch season will be on the market too long. He's certainly welcome here with us until that time comes along.