IMGWBL - First Day of Playoff Games
July 28, 2009
by: IMGAMarketing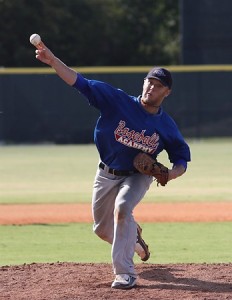 In the first round of the round-robin style play, the Sea Dogs were able to overcome an early three-run deficit and get an early lead in the group standings. All of the scoring came early in this one as the pitchers were able to settle down towards the later innings.
The Lightning stuck first in the first inning when Jeff Mazzamurro scored on a bases-loaded sacrifice fly by Jackson Yates. They kept the offensive pressure on in the next inning as they were able to push two more runs across the plate, this time the RBI hit coming off of Mazzamurro's bat. Tim Hodgson led the inning off with a walk and Tyler Hesselgesser followed with a double. After a wild pitch that allowed Hodgson to score, Mazzamurro poked a double to right, knocking in Hesselgesser.
Mazzamurro had a great at-bat before dropping the double down the right field line. The short stop fought back to force the count full after being down in the hole 0-2.
The Sea Dogs offense decided to wake up in the third as they sent nine batters to the plate. The first five batters of the inning all came around to score and those would be all the runs would get or need for the game.
Jonathan Davis and Angel Garcia had the big blows in the inning for the Sea Dogs. Davis hit a RBI double to left-center and Angel Garcia hit a single up the middle that was good for two runs to score.
Sea Dogs starter, Corey Wiley, had a great outing to get the first playoff win. Wiley went all seven innings, allowing four runs on four hits and striking out five.
The Lightning got a fantastic relief effort from Hesselgesser who came in to stop the bleeding. Hesselgesser went four innings without allowing a run and yielding just three hits.
There was plenty of good action in the first day of the playoffs, below are the scores from the other games.
Mustangs 1 4 0
Hurricanes 2 4 2
WP - Cas Dean - 9 IP, 3 H, 0 ER, SO (80 pitches)
Top Performer - Cas Dean - WP, 1-3, R, RBI, HR
Buccaneers 2 5 0
Ospreys 5 8 0
WP - Jesus Sanchez - 6 IP, 2 ER, 2 SO
SV - Ryan Brenner - 1 IP, 2 SO
Top Performer - Carlos Arocha - 2-3, R, 2B, 2 RBI
Hammerheads 5 6 0
Conquistadors 4 6 0
WP - Andrew Ladisa - 6 IP, 4 ER, 8 SO
Top Performer - Ben Johnson - 2-4, 2 R
Lightning 4 5 1
Sea Dogs 5 5 1
WP - Corey Wiley - 7 IP, 3 ER, 5 SO
Top Performer - Angel Garcia - 1-3, 2 RBI
Pool Play Standings:
Pool A
1. Hurricanes (1-0)
2. Sea Dogs (1-0)
3. Lightning (0-1)
4. Mustangs (0-1)
Pool B
1. Ospreys (1-0)
2. Hammerheads (1-0)
3. Conquistadors (0-1)
4. Buccaneers (0-1)