Where U At? Powell heads to Vegas for top AAU tournament
July 29, 2009
by: Dan Tierney
Dwight Powell, a rising senior at the IMG Academy basketball program, is one of the top recruits in the country. The 6-foot-9, 220-pound forward is spending a few days this summer participating in basketball camps, including the NBPA Top 100, Amar'e Stoudemire Skills Academy and LeBron James Skills Academy. Powell, also a 4.0 student, will give a first-hand account of the camps throughout the summer.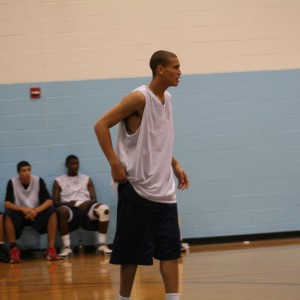 Las Vegas is a city unlike any other that I have ever seen. It's more of an adult theme park crammed inside of a gigantic sauna. My AAU team, Grassroots Canada, arrived a day earlyfor the tournament to check into our hotel and get everyone organized. We stayed at the Sahara Hotel and Casino just at the end of the strip, which was close enough to feel the vibe of the city and far enough to keep too much trouble out of walking distance. This was the first tournament where my team was going to have a full and healthy roster. This fact alone was enough to excite talks of a repeat championship after we took the 'chip last year!
Because we were the defending champs, we were entered into the super pool and jumped into some heavy competition. Our first game was against the Atlanta Celtics, which had Josh Smith of the Atlanta Hawks as an assistant coach. We played considerably well for the first game of the tournament and pulled off the victory.
Our second game of the day was against Pump 'n Run Elite out of California - another team with high-ranked players and great coaching. Our team showed that we came here on a mission and ended the day with another win.
Right after our second tournament game of the day, we went directly to another gym a few miles away to play a game in the GBOA Challenge of Champions, where AAU teams from different shoe brands were pitted against each other in front of dozens of scouts, coaches and media. Since it was not a crucial game on our road to a repeat at the Super 64, we gave a lot of minutes to some of our younger players who still managed to pull off the win over Belmont Shores out of California.
After a three-game day, we were thankfully getting a chance to sleep in a bit for our 2:30 p.m. game against the Derrick Rose All Stars coached by Rose's brother. Our team came out gunning from the start. Our press was working well, and we were executing our offense great.
With 11 minutes left in the second half, we had built a comfortable 30-point lead. On an alley-oop attempt from point guard Myke Kabongo to myself, I was fouled, but completed the play and headed to the line for one free throw. Now, everyone in basketball knows that when you're fouled and still complete the basket, you get only one free throw. For whatever reason, all four of the defensive players around the key froze when I shot and missed the foul shot, so Igrabbed the rebound and dunked it.
With a 30-point lead, this might not have been seen as the best sportsmanship, but it was instinctual. Nevertheless, all havoc broke loose.Technical fouls were awarded to the other team's coach, and they ended up forfeiting the game. Before leaving the gym I got a chance to catch up with my high school coach from IMG Academy, Coach Vince Walden, who came out to show some support.
With only one game that day, we had an entire afternoon to explore the fabulous Vegas strip. My Mom, who also came to show support, and I took the bus to the other end of the strip and walked back to eat and see the sites. For the most part, Vegas is what I expected and very similar to what you see in movies. It's very glamorous, with a lot of beautiful architecture, and one hundred and one ways to give away your money.
What I was surprised to see was the amount of homelessness in and around the city, which is awful to see in a city with so much money around.
After making it out of the Super Pool undefeated, we could feel the pressure of a repeat on our shoulders even more now. With different media showing us love, and hundreds of college coaches (including Stanford, Harvard, Vanderbilt, Georgia Tech, California)from all over the country showing up to all of our games, we could taste Sunday's championship. With a 3-0 record in the Super Pool, we received a bye until Friday. Day three of the tournament for us was basically a holiday. We got a lot of rest, did a bit more touring around the city and some even hit the pool.
Day four, though, saw us get back to business. With no game the day before, some of us lost our focus, so early Saturday morning we were reminded of the history that we could make in Vegas. The speech given by Coach Ro actually pumped us up a lot. We came to the game fired up. We also had a former player, DJ Wright, there with us to make sure we stayed up.
The first game of the day was against the Compton Magic, a team we narrowly beat in overtime last year in the championship game. Therefore, this game was personal. Like I said, we came out guns blazing and kept it up all game before winning by 30 points.
Our second game of the day brought New Heights out of New York City - a good team with a few highly ranked players. We battled it out for 32 minutes. With a few lead changes, fouls (some legitimate and some sketchy, and an overall physical game, I'm sure it was a pleasure to watch for the hundreds of coaches, media and fans in attendance.
We came to Las Vegas to win a second consecutive championship. Unfortunately, we let a lot of people down - mostly ourselves - by losing to New Heights by one point in regulation. I'm not trying to sound cocky when I say this, but we all felt like we were upset. We felt like we should have won that game, but now we all have a chip on our shoulders bigger than the one we had going into the Super 64.
Even though that was our last AAU event for Grassroots Canada, my teammates and I still have one more tournament where we will be able to showcase our talent on the global stage as we represent Canada in August at the adidas Nations tournament in Dallas.
So, on behalf of Grassroots Canada, I would like to thank all the fans, supporters and all the positive media that we have received during this AAU season.
This will not be the last you hear from Grassroots Canada.We have some crazy young talent up in Toronto itching to make a name for themselves in the States, so keep Grassroots Canadaon your radar.There is a lot more to come!