Mulholland selected for All-America baseball game!
July 30, 2009
by: Dan Tierney
Every game day starts the same for Casey Mulholland.
Put on the chain with a No. 37 charm, followed by the chain with a cross. Right sock on before the left. Before batting, it's always right batting glove first. When taking the mound, the feet never touch any chalk lines.
And when Mulholland participates in the Under Armour Baseball All-America game next week with 35 other of the best players in the nation, he'll do the same exact thing.
"I'm not messing with anything at Wrigley Field," said Mulholland, who recently committed to Ole Miss.
Mulholland's summer baseball tour, which has included a stop at the Perfect Game USA showcase in the Minneapolis Metrodome, will continue at 1:20 p.m. Aug. 8 when Mulholland will get a chance to play on one of sports' most hallowed grounds. And the game will be televised on ESPNU.
"I've never played with TV cameras going, so I'm not sure what to expect," he said. "Just standing on Wrigley Field, I may get some jitters. I mean, it's Wrigley Field! Once I'm on the mound, I'll be fine. There's a mound, a ball and a batter just like every other field."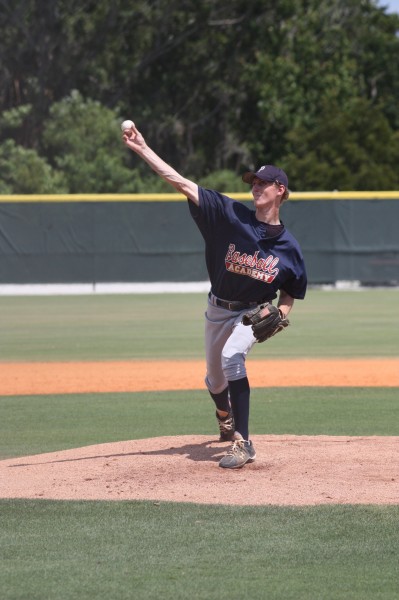 A rising senior, Mulholland began this journey as a child with modest goals, like simply making a varsity team. Five years ago, the Bradenton resident began attending the IMG Academy baseball program, and so his quick ascent up the baseball world began.
He's grown to 6-foot-4, averages 90-plus on his heaters and can confidently throw five pitches (two- and four-seam fastball, slider, curve and changeup). Last year, he earned preseason junior All-America honors and followed that up by going 6-0 with a 1.46 ERA and a 68-10 strikeout-to-walk ratio on a team that finished 29-1. While he continues to work on his strength with the Athletic & Personal Development program and his pitching consistency with Baseball Academy pitching coach Steve Frey (a former Major Leaguer), Mulholland took his show on the road this summer.
He took a trip and "fell in love" with everything about Ole Miss and its subtle family-like surroundings.
"On Saturday," he said. "I showed up for a series against Georgia and sat in the main stands where most of the players' families sit. I met some people and shook some hands. When I came back Sunday, they knew my name. They asked me about my day and my visit. They actually had interest and cared enough to remember me."
Not long after, he committed to the school.
Then, he attended the Minneapolis showcase. Against some of the top competition in the country, he pitched two innings and conceded zero runs, while striking out three batters. He also hit a double and triple (with a wood bat) at the plate.
Despite the success against national competition, Mulholland isn't getting anything handed to him on his own high school team. Mulholland, Jimmy O'Neill (6-foot-8) and Blake Perry (6-foot-5) will battle for the No. 1 spot in the rotation for The IMG Academy School at IMG Academy.
"I'm not assuming anything," Mulholland said. "I'm going to have to prove myself just like anyone else."
Plus, Mulholland and his teammates have a strong shadow cast over them in the form of last year's team, which won all four tournaments that it entered and finished ranked in the top 10 of several outlets.
"We had unbelievable camaraderie last year," he said. "Our team just meshed. When one guy failed, another guy would pick him up.
"But if we put in the work and use some of the things we learned last year, we can only go up."