Tyler Hunt is Getting Back in the Game
August 04, 2009
by: IMGAMarketing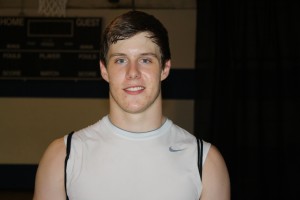 The trip from Oswego, NY to Bradenton, FL is about 1,500 miles. That is how far Tyler Hunt traveled this week to come to IMG Academy to work on his basketball skills. Take away the game that this sixteen year old has played since he was eight for an entire year and that type of burn and desire will make you do anything to get back on the court. Hunt, 16, from Oswego, NY, missed the entire Oswego High School basketball season after breaking his leg doing nothing other than playing basketball. He is now trying to make up for lost time on the court and is making sure he is prepared for the upcoming season.
"I'm just trying to get back in shape," says Hunt. "The physical conditioning here is incredible. The workouts are really intense, but they will definitely get me in great shape. I am going to bring these workouts home with me and continue to work hard. After missing last year, I want to be ready for the season when it starts. I really can't wait to get back out there."
Hunt is the type of kid that really wants to become a better basketball player, and instead of just saying it, he gets into action by working out constantly throughout the year.
"I came here to become a better player," he says, "I am a student of the game so any chance I get to play basketball, I take it. I try to go to a lot of camps and I always like to have a ball in my hand wherever I go. While I am here I really want to take advantage of the amazing facilities and the knowledge that all of the coaches have. This is a great opportunity for me and I know I can get better here."
As a player who describes the best parts of his game as his back to the basket moves and the communication he brings onto the court, Hunt is working to improve his ball handling do some fine tuning to his post moves.
"After working out here for just two days, I already have some new tools that I can add to my repertoire that I use in games that will be very effective," says Hunt.
His favorite players are Dwight Howard and Kevin Garnett because of the high energy and hard work they bring to the floor. Hunt brings his own high level of energy whenever he steps onto the court, and knows that if he puts in the effort, he can reach his goal.
"I eventually want to play major college basketball," he says, "and I know I can if I work hard enough."