Update #2 from Wrigley Field / Under Armour All American Game
August 08, 2009
by: IMG Baseball Academy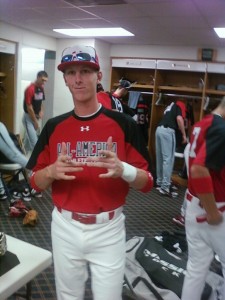 Just minutes after posting our last update, Casey called me at 12:30pm est. and let me just say that as a baseball fan I am jealous, as a die hard Cubs fan, I am extremely jealous!
At the time of the call, Casey had just finished on-field BP and was in the clubhouse waiting to eat lunch. I knew my time with him was short but I needed more details.
IMG Academy baseball program: How did you perform in BP?
Casey Mulholland: Pretty good, I hit one off the ivy in left-center.
IMG Academy baseball program: You mentioned in a text that you hit with Cal Ripken Jr., tell me about that experience.
Casey Mulholland: It was special. He liked my swing and asked why I was hitting with the pitchers.
IMG Academy baseball program: Who else have you had a chance to meet?
Casey Mulholland: Fergie Jenkins. He worked with the pitchers and his singing "Take me out to the ballgame" during the 7th inning stretch.
Former IMG Academy baseball program player Chris Perez, Cleveland Indians. Perez is in town playing the White Sox and was here working with us as well. I had a long conversation with him about how much the Academy has grown.
Ernie Banks is going to deliver a pre-game speech to us. I am really looking forward to hearing him speak.
I met Steve Phillips from ESPN and Billy Ripken from MLB Network.
IMG Academy baseball program: How have things been with the other ball players?
Casey Mulholland: Great. Everyone here is real nice. We know a lot of each other from previous tournaments and showcases. I have played with several of the guys over the past year.
IMG Academy baseball program: What are your feelings going into the game? Do you like your teams chances?
Casey Mulholland: We have a great team. Some power arms and guys who can flat out hit. But so does the other team. They did a great job putting the teams together. I think we are pretty evenly matched. Should be real exciting.
IMG Academy baseball program: Well get back to lunch, thanks for taking time to call. Good luck today!
Casey Mulholland: Not a problem. Thanks.
Casey will be playing for Team One, wearing white uniforms. He is #9 and scheduled to pitch the 7th inning. We are very proud of Casey's accomplishment and will be glued to the television.