Gemma Dryburgh wins the EWGA Midland South Girls Championship!
August 11, 2009
by: The Leadblogger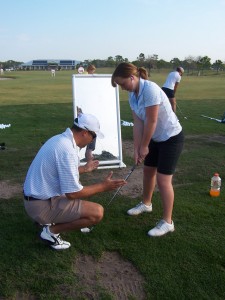 Gemma Dryburgh working with DLGA instructor Jason Suedhof
Gemma Dryburgh, who just completed her first semester at the IMG Academy Leadbetter golf program Academy won the inaugural EWGA Midland South Girls Championships at Studley Wood, Oxfordshire. The Midlands South Region is made up of Berkshire, Bucks, Oxfordshire, Northants, Warwickshire and
Worcesterhire/Herefordshire.
Gemma has had a good summer at home as she also reached the semi-finals of the Midlands South Ladies Championships earlier in the summer.
Well done Gemma!