Meechai Pandungsiriseth wins his first AJGA tournament!
August 11, 2009
by: The Leadblogger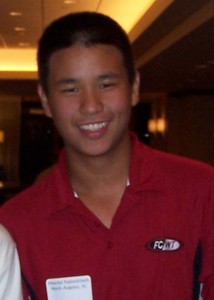 Two-year IMG Academy golf program student, Meechai Padungsiriseth, rallied to win last week the AJGA Junior All-Star at Spring Creek in Gordonsville, VA.
The final-round result came down to the wire last Wednesday at Spring Creek, but it was Meechai who came out on top with a one-stroke victory at 6-under-par 210.
The AJGA Junior All-Star at Spring Creek was a 54-hole stroke-play event with a 36-hole cut held at Spring Creek Golf Club. The field was made up of 98 boys and 32 girls, ages 12-15, from 23 states, Canada, Mexico, Colombia, the Philippines and Thailand. The Boys Division played the par-72 course at 6,675 yards and the Girls Division played at 5,796 yards.
Meechai was tied with Hank Lebioda with one hole to play, but a closing birdie by Meechai was enough to win the tournament. Meechai fired a final round 4-under-par 68 and hit all 18 greens.
This was Meechai's fifth Junior-All Star event this summer and his first AJGA win!
Congratulations Meechai on your great play!
For complete results check out www.agja.org