U-15, 16, 17 and 19 boys go without a loss in weekend play!
September 30, 2009
by: Dan Tierney
Consisting of some of Florida's elite soccer clubs, the Club Directors League matches IMG Academy soccer program boys' and girls' teams against top competition.
The weekend roundup
U-15s: IMG 2, Fusion FC 1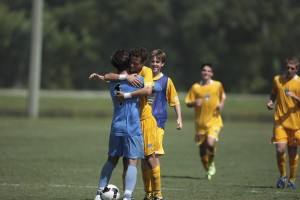 The IMG U15's traveled to Tampa Saturday morning to take on Fusion FC. A fast start to the match saw both goalkeepers having to respond well, with Everardo Collar making two great saves early on in the match for IMG. Hector Rojas put IMG ahead in the 17th minute, with a hard-working goal. Hector carried through on two tackles, putting himself in on goal and finished with composure to put IMG up 1-0.
With strong tackling and attacking, the hard midfield work from Pablo Aguilar, Gianluca Carbone, Paul Sime and Jeronimo Mata kept Fusion FC in check and allowed IMG to enter halftime with a 1-0 lead.
IMG maintained their one goal advantage until the 53rd minute, when a Fusion player got free in the box and finished nicely.
With continued attacking pressure from Michel Zarur, Andres Pena, Diego Torres and Andrew Ezigbo, IMG nearly added a second goal with an Ezigbo shot just missing wide. Disciplined marking and tackling from Juan Deschamps, Cameron Boone and Camron Tally did well to limit the Fusion's attempts, but it was Stephen Ravazzoli that provided the necessary leadership to ensure IMG would not concede a second goal to Fusion.
IMG was awarded a corner in the 68th minute and an alert Gianluca Carbone played a short corner with Michel Zarur, who crossed to an onrushing Cameron Boone. Boone's powerful header was the punctuation point to a hard-fought, tightly-contested match, with IMG taking all three points with a 2-1 win.
Goals: Hector Rojas (17th min)
Cameron Boone (68th min)
U-16s: IMG 1, Fusion FC 1
For the first 20 minutes, we did not play very well. After the 20th minute, we started dominating the game and creating a lot of chances. Nunez hit the inside of the post with the ball bouncing back out. Before that, we created two more chances, with one going over the crossbar. And despite Fusion having only one chance, they managed to score a goal.
After going down 1-0, we pushed forward creating a lot of chances and were finally able to get a corner kick. James Pendrigh crossed the ball to Spence Moeller, who headed it in to tie the game. We continued to press and created more chances, but couldn't score. I hope for Wednesday's and Saturday's games, we come out with the right attitude and start playing from the beginning.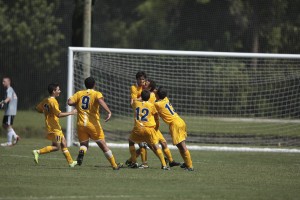 U-17s: IMG 3, Strictly Soccer 2
On Wednesday, the IMG boys were victorious against Strictly soccer in a make -up game .The team had a great approach and were tactically impeccable. The game was played at 7:30 p.m. on a "potato field," but the team adjusted quickly to the conditions. At the end of the first half, we were up 3-0, with 3 quality goals scored by Jake Kaye (2) and Matias Rubio.
Salman Brache started in goal. Our defense (De Luca, Ingerman and Sheehan) did a great job closing down space and being very aggressive on every ball that was played in our defensive end.
Our two central midfielders (Medina and De Sa) provided quality and quantity throughout the whole match. Our two forwards (Rubio and Kaye in the first half and Nicolaci and Vega) were deadly and well supported by our attacking midfielder (Munson). Our outside midfielders ( Stockes and Ortiz in the first half and Ingles and Reid in the second half) did a super job offensively and defensively.
In the second half, the team relaxed. Strictly found a goal in the first 5 minutes and got back in the game.
With 15 minutes to go in the match IMG was awarded a penalty kick. Medina took the shot but the GK made a great save and started a quick counterattack . Strictly scored their second goal and made the game thrilling.
Still, the team was able to handle the last part of the game without giving any other opportunities to Strictly.
U-17s: IMG 1, Fusion FC 1
Very disappointing draw against the top team in our group. Fusion F.C. had more possession of the ball, but we were more dangerous and had more scoring chances than them . Not many changes in our line-up, but the team didn't play with the same intensity of Wednesday's night game. We had a few opportunities in the first half with Rubio and De Luca, but we weren't able to convert them into a goal.
On a counterattack, Fusion scored with 15 minutes to go. IMG reacted quickly and Dante De Luca scored on a corner kick taken by Medina. At this point, we were all over the other team. In the second half, Ninolas Nicolaci played a brilliant game as a center forward creating space for the other forwards and got some scoring chances. With two minutes to go , Nicolas scored a goal on a cross but the goal was disallowed by the linesman.
U-19s: IMG 3, Fusion FC 3
This was one of those games that at the end of it, you know you let two points get away. IMG played well offensively, but poor defensively. Fusion had 3 shots on goal and they scored 3. IMG had multiple goal opportunities -- 1v1 against the GK. When you miss too many chances, you will pay at the end of the game.
IMG was up 3-1 and should have scored at least 3 more. Poor finishing and good saves by Fusion's GK kept the game close and gave Fusion the opportunity to come back and tied the game 3-3. Michael Brunson scored 2 goals and Brandon Patten had the other one.