DLGA Alum wins the Gary Koch Invitational!
October 05, 2009
by: The Leadblogger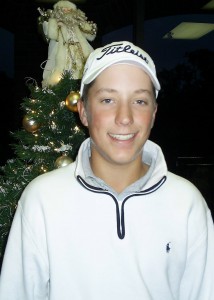 Fifteen men's golf teams traveled to Tampa, Fla. to participate in the 2009 Gary Koch Invitational on Saturday, Oct. 3 and Sunday, Oct. 4. The entire 15 team field played the par-72 Old Memorial Golf Club at 7,389 yards.
The Florida Gators entered the event as the best-ranked squad in the tournament field. The eighth-ranked Gators were one of three teams featured in the Golfweek/Sagarin Rat­ings released September 30. The Gators joined No. 9 Florida State and No. 10 Auburn. Other ranked teams that participated in Tampa were No. 13 North Carolina, No. 15 North Florida, No. 17 Texas Tech and 25th-ranked Virginia.
Auburn Sophomore, 2007 IMG Academy Graduate and four-year IMG Academy Leadbetter golf program golfer, Kyle Kopsick won individual honors at the event after shooting 15-under par with rounds of 72-63-66. This win is Kyle's first collegiate victory.
Kyle broke a few Auburn school records with his win over the weekend. Kyle's second round 63 is the lowest 18-hole score ever recorded by a Tiger in collegiate competition and with his closing final round of 66, Kyle set a new school and tournament record with a 201 three-round total.
Kyle also led the 81-player field in par-3 scoring, averaging 2.58 per hole, while nearly claiming the course 18-hole record of 62 set by Camilo Villegas in 2001.
During Kyle's time at the golf academy he was taught by Senior Instructor, Scott Bettger!
All of us at IMG Academy golf program congratulate Kyle on his great win this past weekend!