Fast Break with Coach Nate and Coach Vince
October 26, 2009
by: Dan Tierney
Attitude and Intensity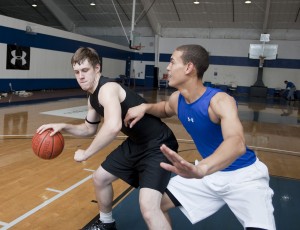 November is right around the corner. and with it comes the start of basketball season. As practice begins, coaches will be looking to figure out just what their team will be like. Who are the starters? Who are the role players? Who makes the team? Who doesn't make the team?
Coaches will use every practice, every repetition, and every moment to help answer those questions. So what can you do as a player to ensure that you are in the coach's plan? The answer is simple...have a great attitude and bring intensity.
There are many different things in life and basketball that you can control and there are things that you cannot control. For example, you cannot control your natural athletic ability, your teammate's actions and thoughts, or if you have a bad day shooting the ball. You CAN control how well prepared you are for practice, your reaction to your missed shots (attitude), and the way in which you work in practice (intensity). Focus on controlling the controllable and taking care of your business.
What does it really mean to have great attitude and bring intensity? It's the small things that make a huge difference like being supportive of teammates, not getting easily frustrated when things don't go your way, constantly working to get better, being receptive to coaching, listening with great focus, doing your best in every drill no matter how complex or how simple, being detail oriented and having great energy from the very beginning of practice until the end of practice.
Not one of these things are dependant upon anyone else (not your coach, teammates or parents). They are 100% the responsibility of the individual player (YOU). If you have a great attitude and bring intensity every day, then you will then be putting your "best foot forward" and give yourself the best chance to accomplish your goals.
Nathan Vander Sluis is the Coordinator of the Developmental Program and a Player Development Specialist at the IMG Academy basketball program in Bradenton, Fla. Nate also played collegiately at Miami University (Ohio).