Familiar faces in NCAA Men's Soccer Top 10 rankings
October 29, 2009
by: IMGSoccer1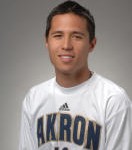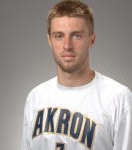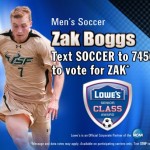 As the flock of new talent enters through IMG's gates every year, both staff and parents are excited to see the progress players make through their time at the Academy as well as the finished product. With so many that have come and gone at the peak of their careers, it is nice to see that many are still at the height of their game.
With the NCAA Men's Soccer season in full swing, we look through the thousands of student athletes excelling at their universities and notice some familiar faces. The same fields, classrooms and dorms that our players now call the norm, were the foundation for the careers of Akron, Wake Forest, UNC and USF players who are fighting for NCAA supremacy.
Under the tutelage of Coach Tom Durkin, we find 5 IMG alumni in the NCAA Men's Soccer Top 10. No strangers to the Top Ten are Akron the duo of Anthony Ampaipitakwong (3 goals, 4 assists) and Blair Gavin (4 goals, 1 assist). Currently sitting at the No.1 spot, the Akron Zips have a perfect record of 16-0, most recently dominating Penn State with a final score of 3-0. Gavin who serves as team captain, also led as captain for the Bradenton Academics (PDL) Team this past summer.
Yet still young, both Alfredo Rodriguez-Allen and Alex Walters earned the right to represent IMG in the ACC. Ranked no.2 Allen has appeared in 5 games as the Demon Deacons hold an impressive 11-2-2 record. Walters who is just across the state from Allen sits at No.3 in the country, and has appeared in 11 of the 15 matches for the Tar Heels, assisting on one goal.
Fellow teammate of Ampapitakwong, Gavin and Walters on the Bradenton Academics (PDL) is University of South Florida striker Zak Boggs (3 goals, 1 assist). Boggs has been an instrumental player for every team he has played for. From IMG, to USF and back every summer for PDL, Boggs is a constant threat to any defense. Not only does he excel on the pitch, but off the fields as well. Zak is nominated for the Lowe's Senior Class award which would only add to his resume of accomplishments. Vote here for Zak --> http://www.seniorclassaward.com/vote/mens_soccer_2009/
Keep your eye on the NCAA race to the top; you just might see someone you know!