I am a golfer......Jordan Jackson!
November 09, 2009
by: The Leadblogger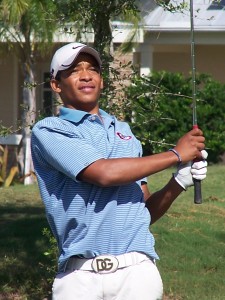 Jordan Jackson
Toronto,Canada
2010
Jordan Jackson is asenior at The IMG Academy School and is in his 2nd year at IMG. He is known as a quiet, dedicated and hardworking student. He is also known for his "explosive" ball striking - he hits it a long way!
I have been a golfer since I was 12 years old , so that's about 5 and 3/4 years .
Golf has meant a lot to me in my life. I think it's a sport that has values and morals that most other sports don't have to offer. I mean in my eyesI look at Golf as a microcosm of life, for example the discipline that it takes to prepare for a tournament can easily be related to the discipline it takes to prepare for an exam or even a road test to get your driver's license . It also has meant a lot to me because being at IMG and playing golf it has given me the opportunity to meet a lot of interesting and successful people.
The best part about being on the golf course is getting away from everything else. It's a time when you can set aside any other worries or troubles and just play golf. For those 4 and half hours all your concentration is on playing and playing well. Also a really good part about being on the golf course is being able to spend time with close friends and family for a long period of time outside in the fresh air.
I think it's pretty hard to not be motivated….especially since I am in such a positive environment, whenthere are hundreds of other kids your age here at IMG working diligently at improving at their sport. It's hard to be the odd one out who says "I don't feel like practicing today". But those days do come when you don't feel like waking up to practice in the hot sun, and I then think about my family or a long term goal that I have set for myself. It's then I know to accomplish that goal I have to get up and go give 100% in practice that day.
There are actually two pieces of advice that I have gotten that relate to golf that have helped me out quite a bit. The first was technical from my coach Paul Weyland, he told me to just always think about staying grounded when I play which has helped a lot . The second was from my good friend Sebastian Szirmakwho is at the University of New Orleans -hetold me to always "do me" on the golfcourse which most nearly means to just be myself and play the course not myopponents .
I'm one of those people who set small specific goals and tries to achieve them each day.And then evaluatewhat went wrong and what wentright, and then apply it to the next day. BecauseI think it's easier to take small steps to achieving yourultimate goal.
Idon't really believein superstitions but one thingIalways do is ...I have a 54 on my golf ball and I put my family's initials onmy golf ball fromoldest to youngest(KRJJ).
My favorite golf is a modern style course with littleundulation,big trees, lots of hazards off the tee, and big multi-tiered greensthat are bent grass.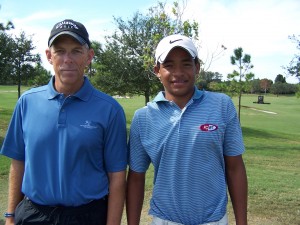 My dream foursomewould be…. Myself, TigerWoods becauseof his overall game and how he can work the ball,Ben Hogan because of all the stories and advice hecould give, and last but not least my friend Sebastian Szirmakbecause we always have a good time when we play. And the venue would be my home course Emerald HillsCountry Club in Toronto, Canada.
I carry a notebook in my golf bag, mostly for when I'm practicing. So thatif there's anything new thatIlearn that dayI can just put it in there andapply it the next timeI use it. BecauseI know that the shortest pencil is more reliable than the longest memory.
I can't live without my ipod. It has mostly electronic music. The artists on it are along the lines of DJ Tiesto, DJ Klaas, DJ Ivan Flash, Club Sounds Crew and Armin Van Buuren .
Ilike to watch Top Gear to get my mind off golf . It is a British show where they take different cars (mostly supercars)and do different challenges with them, they alsohave an all time speed list to see which car goes the fastest around the track. The car is driven by their drivernamed"The Stig" who is Michael Schumacher. It helps me get my mind off golf because it's hard to think about anything else when you're watching a Bugatti Veyron with a top speed of 407 KM/H race aPlane.
My favorite golf memory came this past summer, it was in late July. My friend Sebastian Szirmak and I had gone out to play which was supposed to be only nine holes. I was playing maybe a little better than average until I birdied numbers 7-9 to shoot 32 on the front. Meanwhile, he was 2 under on the front but holed out from the fairway to also shoot 32 . 32 was my best 9 hole score so I wanted to keep playing, but my friend Seb had shot 30's and 31's so he wasn't as thrilled to keep playing. Eventually, we kept playing, and it was a good thing we did. We turned it into a match for the back nine where I birdied the reachable par 5, 10th and made a 50-footer on the 11th to get it to 6-under through 11. Meanwhile Seb was making birdies left, right and center. He birdied 10, 11, 12,13 and 14 and got it to 9- under par. I finished at 4-under whichis my lowest round so that was awesome in itself, but heshot 9-under par 63 which is now the new course record at my home course Emerald Hills. That ismy favorite golf memory becauseI shot my lowest round andfirst handwatched my good friend take it 9 deep for the course record…. Definitely an unforgettable day.