Best vision on campus? The results are in
November 10, 2009
by: Dan Tierney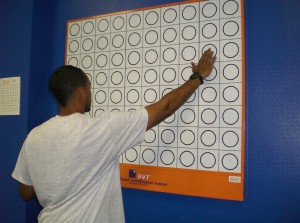 During the first two weeks of the semester, we tested approximately 800 students in the new C360 program - a revolutionary measurement system that assesses your current athletic form and helps our experts formulate a plan to reach your athletic and personal peak. We are currently training students twice a week using nine different practical exercises that improve depth perception, near and far focus, scanning and recognition, visual memory and reaction times just to name a few. We already have students that are considerably lower than the C360 testing scores with just a few weeks of training! Below are the exercises and scores of the top individuals for each sport in the vision training:
Concentration Boards (Scanning and Recognizing)
This test examines an athlete's ability to focus, remain alert and concentrate over time. The lower the score in seconds, the better.
1st
Jose Medina
Boys Soccer
34 seconds
2nd
Sam Morris
Tennis
35
3rd
Patrick Albrittain
Baseball
46
4th
Taylor Morgan
Girls Soccer
49
5th
Tommy Mylnikov
Tennis
52
6th
Malik Stevenson
Basketball
54
7th
James Zheng-Liang
Golf
60
Tachistoscope
The tachistoscope is a computer program that quickly projects an image on the screen, giving an athlete a brief exposure to a set of stimuli. The tachistoscope determines how effectively an athlete processes, organizes and retrieves information. The maximum level is 18.
1st
Mariana Palacios
Tennis AM
18
T2
Jake Dubie
John Voychik
Boys Soccer
17
Miguel Trillo
Pei Yun Zhao
Golf
T6
Chad Clifton
Eric Myskowski
Baseball
16
Kirk Dirschl
Aldor Kola
Andrew Davis
Basketball
Bernardo Guitron
Mark Allen
Arina Kuznetsova
Tennis PM
Paige Butler
Girls Soccer
The SVT (Sight Vision Training) Board is a programmable machine that examines an athlete's hand-eye speed and coordination, ultimately determining their ability to react. The lower the score in seconds, the better.
1st
Carlos Mateos
Baseball
12.69 seconds
2nd
Trey Strobel
Tennis AM
13.70
3rd
Malik Stevenson
Basketball
13.95
4th
Juan Jiminez
Boys Soccer
14.24
5th
Taylor Morgan
Girls Soccer
15.38
6th
James Zheng-Liang
Golf
15.49
7th
Catalina Guerra
Tennis PM
16.10