IMG U-16s defeat Bermuda National Team in friendly
November 13, 2009
by: Dan Tierney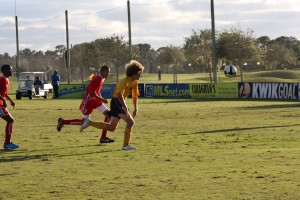 IMG U-16s 4, Bermuda U-15s 0
As most all friendlies turn out to be, it was a competitive match. Both teams coming into the game with no idea of the other's style or quality. They played three 25-minute periods. IMG started off the better of the two teams, going up 1-0 in the first 10 minutes from a powerful free kick just outside the box by John Voychik.
The Bermuda team looked to be a bit overwhelmed by the speed and physical nature of the IMG team, but did their best to match it. They did manage to conjure up a chance or two after going down 1-0, testing the IMG keeper. One may say better finishing was in order, but you can't take away the saves from the IMG keeper. Mintues later, a misjudgment on a long ball, followed by a poor clearance led to a 1v1 for Christian Andrade who made no mistake. So it was 2-0 after the first 25 mins.
The second 25 minutes was much of the same with IMG on top. However, there were some bright spurts from the Bermuda team showing glimps of good technique and passing mostly through the midfeild two. They looked good building up until it was time to attack then looks like they ran out of options most times. Then another misjudgment on a throw-in proved costly as Christian Andrade again got through and added to his tally. By no fault of the Bermuda keeper as he made a few good point blanks saves. The last of the goals was an own goal from one of the Bermuda defenders. A cross whipped in from the left, the Bermuda defender redirecting it into his own net from attempting to clear his lines.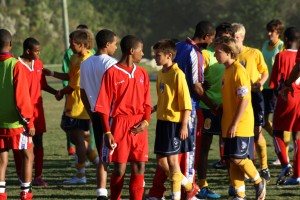 The last 25 minutes was a pretty even spell with the Bermuda team still playing and working hard, stringing together some good spells of possession in the attacking half. None being finished off with a goal scoring chance, maybe a little unlucky to come aways with no goals to show for effort. Overall was a good showing for both teams, but as they say, the team with the least mistakes always has the better chance to win and this was the case in this match.
See here for Bermuda's The Royal Gazette's quick recap of the match.