Kyle Allen featured in Inside Pitch Magazine
November 13, 2009
by: IMG Baseball Academy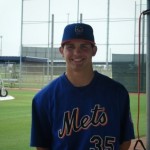 The IMG Academy baseball program standout was recently featured in the publications Top 50 Mets Prospects at #16. Inside Pitch Magazine covers the New York Mets organization from top to bottom. Allen not only made their Top 50 but was also listed in their Top 10 for changeups (#5), sliders (#6), and fastball velocity (#10). An except can be seen below.
Top 50 Mets Prospects

16. Kyle Allen - The Mets threw Allen right into the deep end of the pool in his second season by assigning him to the Savannah rotation. The right-hander responded emphatically by shaking off a rough April and becoming a model of consistency. His low-90s fastball, with run, and a changeup with plus potential were the cogs to his success. He fills out his repertoire with an improving slider which could determine his success when makes the jump to St. Lucie. Clean mechanics and bulldog mentality round out a promising game.

Top Tools: Changeups

5. Kyle Allen - Allen's development has been expedited by the fact that he came into the organization armed with a well-developed changeup. He throws the ball with excellent arm action and creates run in on his right-handers with two-seam-like movement. The velocity jumped anywhere from the high -70s to 83-84 MPH during the season, but the overall tempo of the pitch and its shallow two-plain movement gives him an effective ground ball pitch. When Allen settles on a consistent velocity, his already very effective changeup could become the best in the system.

Top Tools: Sliders

6. Kyle Allen - Allen's slider came a long way in 2009 to the point where it will soon rival his changeup as his top secondary pitch. Thrown in the low to mid-80s, Allen showed good, tight break and increasing confidence to use it as the season went on. The pitch still has room to grow, but this time last year Allen lacked all feel for a breaking pitch. The development seen this year with the slider could allow him to have a truly breakout season in 2010.

Top Tools: Fastballs for Starters

10. Kyle Allen - Allen's velocity varied at times during the season. That depended on what kind of fastball and what kind of approach Allen went for. There were times when he would ratchet up his fastball in order to get it by hitters and would touch 91-92 MPH. However, as the season went on, Allen settled down with his fastball and began to rely more on pacing, location and movement. He dialed down the fastball by one or two ticks, accentuating the running action on his two-seam fastball. Once the right-hander learned fastball success can be achieved through effectiveness and not so much velocity, his game took off.