Leadbetter students dominate at the FCWT Naples Beach Challenge!
November 17, 2009
by: The Leadblogger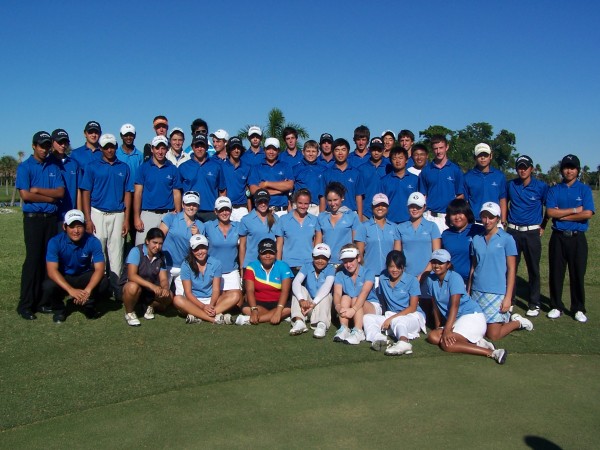 IMG Academy Leadbetter golf program Golfer, Shugo Imahira of Japan fired an opening round 67 (5-under par) to take the first day lead in the Boys 16-18 division at the Naples Beach Challenge on Saturday. Shugo, who finished 4th at the Tampa Bay event in September, began the final round with a 3 shot advantage over past IMG golfer Guang Dian "Eddie" Huang and a 4 shot advantage over fellow Leadbetter golfers Gary Dunne of Ireland and Mark Sanchez of Canada.
On Sunday, Gary made a great run at the title by firing a 3-under par 69 that was matched only by Nicholas Maruri of Mexico City, Mexico as the two tied for Low Round honors.
For Gary, despite leading the division in birdies with 11 for the event, it was not enough to maintain the lead over Shugo. Gary caught Shugo on the back 9 on Sunday, but bogies for Gary on the back- to-back par 5's (14 & 15) put him a 2 shots behind Shugo with 3 holes to play. Gary birdied the 16th, to move back to 1 shot back and that's how the event ended. But Gary's stellar Sunday play did earn him sole possession of 2nd place.
Another IMG Golfer, Tyler Sluman of Huntington Beach, CA, played well on Sunday after his 16 pars and 2 birdies to move into a tie for 3rd place. Hao Yuan "Steven" Lu of China finished with a closing round of 1-under par for a 144 total earning him 5th place honors.
The Boys 13-15 division found five golfers at the top of the leaderboard on Saturday after all shooting 73. Included in the mix of 73's, was IMG golfer, Rigel Fernandes of India.
On Sunday, Rigel birdied the last two holes for a 1-under par 71 that earned him his first Boys 13-15 title by 3 shots. Rigel led the 13-15 division in birdies with 7 total over the two days.
The IMG Academy Leadbetter golf program girls also had quite the weekend. Third year IMG golfer, Dottie Ardina of the Philippines started the final round in second place behind overnight leader and fellow IMG golfer, Sophie Hayashi of Carmel, IN. But it was 14 year old IMG golfer, Vivian Chen of Taiwan, making the BIG move on Sunday. Vivian had 5 birdies on Sunday and finished with a 4-under par 68. Dottie shot a final round 72 and pulled off the win over Vivian by a shot.
This was Dottie's first win of the 2009-2010 season, but her 6th FCWT win over the years.
Vivian led in birdies with 8 over the two days and earned Low Round honors on Sunday. First round leader, Sohpie Hayashi, finished in 3rd place with a final round 75.
Well done to all our trophy winners!
For complete results, click here.