U-17s win Savannah Senior Cup College Showcase!
November 20, 2009
by: Dan Tierney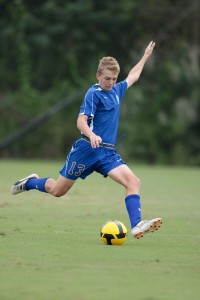 Nov. 14 and 15 soccer recap
The U-17 IMG Academy soccer program boys' squad came back victorious from Savannah, GA, this past weekend, with a brilliant display of entertaining soccer.
On Saturday, the team defeated CFC Red Star from South Carolina 4-2. Danny Stokes scored the first goal of the match. Pablo Medina scored with a great free kick, and Nicolas Nicolaci added two more.
In the afternoon, the team faced Coastal United 92, and after a very hard and physical match, the team managed to tie the game 2-2 with two goals by Jake Kaye. Unfortunately, Aden Ortiz fractured his tibia after a hard tackle, and he will be out of competition for not less 4 months.
On Sunday in the semifinal match IMG defeated CSSC Elite 3-1. Kaye (2) and Nicolaci managed to score for IMG.
In the final, IMG again played Coastal United, but this time the IMG squad defeated the tough opponents 3-1. Jake Kaye ( him again) scored all three goals!
Beside winning the tournament, the U-17 boys played especially well offensively, with 12 goals scored.
The team effort was incredible , everyone had a chance to play and everyone contributed to the team's success. It's imperative that I mention 2 players that were unstoppable this weekend: Jake Kaye with 7 goals and Pablo Medina, who was an absolute leader in midfield throughout the tournament.
Savannah Tournament
U-17 Girls
The U-17 Girls had a great but disappointing weekend in Savanna where we finished in 2nd place. It was great because they finally played to their potential but disappointing because they should have come home with the championship. I'm very proud of and happy for the girls. They applied our last few weeks of training very well. We were moving the ball around the other teams with ease. It was pretty soccer and fun to watch.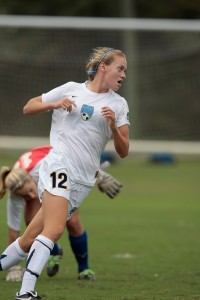 Our first opponent was not very challenging, but it was a good start to the tournament and great confidence builder. As the tournament progressed we faced better teams. Each one we faced we outplayed. Every player had a great tournament and stepped up their game in a collective effort as a team. Sammie scored 5 goals putting her in a great finishing position. Louisa played out of her mind in the second game. My goal for her is to get her playing with that attitude permanently. Devon had a huge finish for us in the third game which we won 1-0. It came off a beautifully executed attacking pattern that we have been working on. Renae and Ashley did a great job of connecting with each other in midfield, switching the point of attack, and winning the 50/50 and 2nd balls out of the air. We need to keep building upon that. Defensively, Paige and Lydia helped lead the back line. We did a much better job of sorting out our marks in the back and passing players on. Aside from a miscommunication error and a missed offside's call, we were well organized in the back. Briel made her first debut with us in the tournament. She fit in well with the team and put herself in many scoring opportunities. For the future, we need to do a better job of finishing our chances, as we should have had many more goals.All in all, it was a very positive weekend. There were spells where we would let our composure and concentration slip, but we are able to hold it for longer than we previously have. We need to be able to maintain it for 2 halves. That is the goal. Our competition will be much tougher in Raleigh so we need to continue to build upon it. Congratulations girls! Lets progress from here.
IMG 14s 3, Strictly Soccer 3
IMG traveled to North St. Petersburg Tuesday night to take on Strictly Soccer in an early season battle for first place in the league. IMG set the intensity and speed of the match early on with two good chances on goal, the first by Stephen Ravazzoli which was blocked before it reached the goal and the second by Craig Foley, who finished nicely to the far post to put IMG ahead early 1-0. The speed and intensity of the match increased throughout the night, making for a nice game to watch. Strictly were able to turn the game in their favor after IMG's goal, winning 6 corner kicks in the first half, converting on the 4th corner of the night to tie 1-1. The corner kick was knocked down and a Strictly player took it well and converted on a 25 yard blast. Paul Sime scored the goal of the night after another deflected Stephen Ravazzoli shot. Sime called on total concentration and a high level of technique to take the ball down over his right shoulder, finishing far post against an onrushing goalkeeper, giving IMG a 2-1. IMG sustained great attacking pressure, with Paul Sime almost scoring again minutes later, but his attempt on goal went barely wide.
Strictly equalized the game early in the second half after the referee awarded a penalty kick. IMG answered quickly, as substitute Mauricio Nieto showed good discipline as he converted off of a Stephen Ravazzoli rebound off the post. Four minutes was all that was needed for Strictly Soccer to again equalize the match at 3-3. IMG showed their resolve, increasing the tempo of the game to a new level and sustaining it throughout the remainder of the match. The last twenty-five minutes of the match were dominated by IMG, with great attacking movements from Michel Zarur, Danny Clark and Alejandro Zamudio. Substitute Ethan Lamb provided good service on two separate occasions with Josh Ruckdeschel almost grabbing the game winner late in the match. A free-kick by Zarur was only kept out by the crossbar as IMG were determined to get all three points in this impassioned contest. The back four of Craig Foley, Miguel Trillo, Logan Moriarty and Brandon Ordonez were dominant in the closing half hour, limiting Strictly to one shot on goal. Goalkeeper Juan Carreon had his best match to date, playing big on corners, free kicks and balls played in behind the back four.
IMG were deserving of all three points, but would have to settle for 1, as Strictly were able to hold back the attack till the final whistle.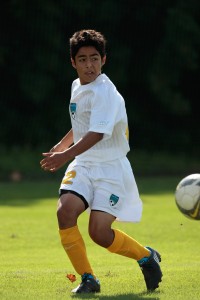 U-19 Boys
Overall IMG had a good weekend. The first game IMG played TASA winning 1-0 with a goal from Diego Rodriguez. We dominated the entire game, played good soccer while continuing to build up and produce combination players. However we failed again to put the ball into the net.
The second game was a very intense and well played game for IMG and Lexington United. This game was the best performance of IMG defensively. They did a great job marking, anticipating the play and did not give a Lexington a chance to score. Offensively we played really well, 1-2 touches, the passing was great and was fun to watch. We created a lot of chances but once again were able to finish all the opportunities we created. IMG won 1-0 (with the goal of the tournament) from Rygo Morales. It was a back heal to the upper corner.
The third game was tied at the end of regulation vs CFC Red Stars 2-2 and IMG was defeated by PK's. IMG came out strong, dominating the game. We played good soccer, connected our pass and created goal opportunities. IMG was up 1-0 on a goal by Brandon Patten. We should have scored a few more and one mistake defensively gave CFC the chance to score and even up the game 1-1. IMG kept pressure on their defense and it finally paid off just before the half was over. Diego Rodriguez score to give IMG the 2-1 lead. The second half was the same. IMG looked to put the game away by creating a lot of chances but we could not capitalize and 4 minutes before the game was over CFC scored to tie the game.
U-16s U.S. Soccer Development Academy League
The U 16 Academy team traveled to Richmond to take on the Strikers and Kickers. We felt we needed to come away with at least 4 points because of our recent results and know it wouldn't be easy because the Strikers are 1st in their division.
Saturday's game was against the Strikers and we wanted to maintain possession in their half as much as possible because recently they have scored a lot of goals and wanted to limit their opportunities and play as far up the field as possible. The 1st half was by far the best we have played to date. The back 4 of Borhausen, Glover, Guerette and Dorton really established the tempo of the game. Their decision making in all facets of the game was sharp and provided a tough task for the Strikers to adjust to. We were awarded with a goal by Allizzo in the 26th minute and went to the half up 1-0. We struck quickly in the 2nd half and went up 2-0 by a goal from Stephen Mcneil off a great pass from Aguilar that split the defense for McNeil to tuck away. The Strikers scored off a set piece that defensively we could of avoided but ultimately they took their opportunity well to make it 2-1 with 15 minutes to go. We closed out the game with 2-1 us, but it was even the rest of the way and any chance they had Glodack was there to preserve the victory.
Sunday against the Kickers we couldn't have any let downs from the day before. The game finished 4-3 for us and we scored very good goals yet the goals against us were very sloppy on our part. Defensively we made mistakes between match ups and body positions which they capitalized on and a cross which found the net for them. Our goals were well taken from the build up and Abdehou was an integral part in all the goals. His best game to date. Along with Allizzo who had a hat trick, McNeial and Aguilar played great games. Richmond couldn't cope with their speed and individual quality.
Overall it was a great weekend to get the full 6 points and keep us closer to the top teams in our division. It was good to see some new players getting to play and play well especially Mitchell.
U.S. Soccer Development Academy League
U17/18 IMG -0 vs Richmond Strikers -1
The weekend brought both frustration and joy after splitting 2 road matches in Virginia against very similar opponents in terms of style of play and defensive tactics. Saturday's match was marred by a slow start, complacency and a lax mentality. Disapointment came early when the Strikers capitalized on an IMG turnover in the build up and wasted little time in going up 1 to nil in what proved to be their only real attacking movement of the day. Coming up against a slow retreating, compact, low pressure defense for the first time this season was a constant struggle and although we played almost 60 minutes of the match on the opponents half it was much too little too late. Concrete chances were hard to come by but Reinaldo Brennes, Fernando Mares, Milain Fayulu, Andres Acevedo, and Martin Ontiveros all went close to scoring. When we looked must likely to level the score the Richmond Keeper came out of nowhere to thwart the attempt, sometimes with a 2nd and 3rd effort. We threw everything at them but the Kitchen sink and in the last 20 minutes played with only 2 at the back, 4 in midfield and 4 up front, yet to no avail. The lesson of losing was not wasted and we now have to overcome complacency and we know what we need to work on going into next week's matches in Atlanta.
U17/18 IMG -4 vs Richmond Kickers -0
The next day with a little more motivation and a more acute awareness of how to capitalize on the opponents choice of tactics there was little doubt who would win the game from the opening whistle. A much better approach to the game mentality saw the opponent completely overwhelmed by IMG pressure. Chance came fast and furious and we eventually broke through on a Martin Ontiveros free kick at the 30 minute mark. The half ended at 1-0 and the starters were given 15 minutes to finish the game off with the objective of being up 3-0 at the hour mark. Milam Fayulu made it 2-0 with a superb 1 touch finish after running on to an Atticus Desprospo entrance pass. Fayulu then converted an Ontiveros corner kick and Ontiveros himself made it 4-0 with a well placed from shot outside the box. What a difference a day makes.