Sammi Stevens featured in the Hereford Brand!
November 25, 2009
by: The Leadblogger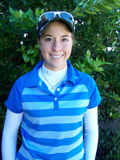 Sammi Stevens a 2010 graduate and 1st year IMG Academy Leadbetter golf program Golfer, recently signed a letter of intent to play for the University of New Mexico.
Sammi is an accomplished golfer winning the Texas/Oklahoma Junior this past summer and just winning this past weekend at the HJGT Tiger Point event in Pensacola, FL.
She is taught by Senior Leadbetter Instructor, Kevin Collins.
Check out the story on Sammi that was recently published in the Hereford Brand here!