Victoria Tanco accepts the Player of the Year Award!
November 25, 2009
by: The Leadblogger
On Sunday, at PGA National in Palm Beach, FL., 96 members of the Rolex Junior All-America Teams and the 24 members of the HP Scholastic Junior All-America Team were honored for their outstanding achievements on the course and in the classroom.
The banquet also featured speeches given by the Rolex Junior Players of the Year - Jordan Spieth of Dallas and IMG Academy Leadbetter golf program Golfer, Victoria Tanco of Argentina.
Included below is a copy of Victoria's speech.
"For the second time I have the honor and joy of winning the Player of the Year, the most important award for a junior player, and this time the excitement and gratitude I feel are greater than last year, because I am now part of a small group of players who won this award for two consecutive years and this strengthens my responsibility of representing it with pride next year and keep improving day after day.
Every year I set new goals for my career in order to continue growing within this amazing sport, and my goal for 2009 was to be the Player of the Year again. I knew it was not going to be easy due to the great development of all of the players, in addition to new girls who have made the junior ranking more interesting and competitive.
I can imagine how hard it was for the AJGA to decide which player should win the Player of the Year, because 2009 has been a very special year, full of excellent players, all of them highly competitive. It was an incredible year! And that it why I would like to share this award with all of them! I feel proud to belong to this new generation of junior players who are changing women's golf and who will surely refresh university golf and the LPGA in the near future. All girls playing at the AJGA ranking are worthy opponents within the courts and best friends at the end of the day, and that is why I am so happy to play here and I am sure these memories will be in my mind forever.
Just like every golfer of the junior ranking, I spend many hours a day practicing in order to improve my game and to accomplish better results in tournaments, but this is only the tip of the iceberg, since I wouldn't be here if it wasn't for a lot of people who support me unconditionally. I would not be here without their help.
First of all, I would like to thank the AJGA members for the dedication, affection and time they invest in us, teaching us with their example the values in life, in sports, and specially the sympathy for others. You prepare and guide us in this time of our lives in which many other teenagers are confused. Instead, you protect us and lead our way to universities and professional tours so that we can be good and professionally fulfilled persons.
I would also like to express my honest gratitude, because the AJGA opens the doors of the most competitive junior ranking in the world for every child, no matter where we were born, the only requirement being having talent. Playing here has allowed me to keep growing as a golf player and to know this wonderful country, with beautiful places and golf courts and above all, with warm and kind people who make me feel very comfortable.
I also want to mention the Asociación Argentina de Golf (Argentine Golf Association), who has always supported me in the competition as well as the instruction. I thank its President, Juan Nicholson, its Directors Mark Lawrie and Daniel Vizzolini, who guide my steps with their experience.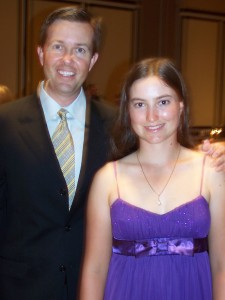 My life during the year combines practicing and competing in USA and going to school and training in Argentina. Thus, my deepest thanks to IMG Academy, David Leadbetter Golf of Bradenton and my teacher Shane Reiser, as well as the School of the Argentine Golf Association and its Director and teacher Rubén Llanes. Both Shane in USA and Llanes in Argentina are fully committed to help me achieve the best results. I feel very confident and supported by them. And also Gonzalo Calomarde, who takes care of my physical training. Thank you to the three of you for taking such a good care of me!
I don't want to leave out my family, who are always with me, supporting me from the beginning. They know I have a dream since I was very little and they give their best so that I can make it true.
Finally, the 2010 World Amateur TeamChampionship will be held in Argentina. For those who are appointed by their countries to be there, I wish you a happy stay and hope that you get the same warmth and friendship I am getting here with you.
Thank you. "