U-15s and 16s win Thanksgiving tournaments
December 02, 2009
by: Dan Tierney
Congrats to the U-15 and U-16 boys' teams for winning their respective age groups at the Clearwater Thanksgiving Tournament!
See below for a roundup of the weekend's action.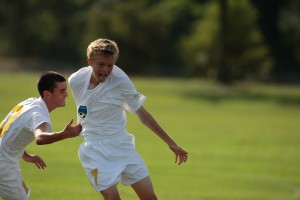 U-16s
Starting early Friday morning the team kicked off at Countryside Sportsplex against rival HC United for their first of two matches for the day. Anticipating a hard match, the team came out with all guns blazing. No more than 15 minutes into the match, IMG striker Dante DeLuca had racked up two goals setting the pace for the remainder of the game. Goalkeeper Miguel Manriguez ate everything in range sending the match into halftime 2-0. An outstanding defensive performance by Team captain Spencer Moeller and Simon Ranuardo kept the game at ease as the attack brewed. Second half goals by James Pendrigh, Alejandro Martinez, and Marcello Casas gave IMG a great start to the Tournament winning 5-0.
After a decisive victory over HCH, the boys were back in action Friday at 2:45pm to take on Lakeland FC. In this round robin style tournament, goals for and goals against could be the deciding factor as to who will take on the number one spot. With this in mind, the boys buried 8 goals for and shutout yet another team on the day. Two goals again by Dante DeLuca set the pace. Adding to the list of goal scorers was Kimathi Kaumbutho, Marco Borsetto, Alejandro Martinez, Diego Bacellar and Jonathan Buggs. Day one finished with IMG on top of the group.
Flying high, IMG knew that Saturday's match would be a battle. A physically larger St. Cloud team created many match up problems for IMG. A quick goal by DeLuca put IMG in the lead but that was the only for they would score. A quick counter attack from the St. Cloud offense tied the game and the momentum quickly turned. It seemed as though nothing was going right for IMG as shot fired and missed time after time and St. Cloud had shots on goal for two goals. With this 2-1 loss for IMG, a three way tie for first place was made. It would all come down to Sunday's match vs. JC Warriors.
A refocused IMG Team knew that today was for all or nothing. A two goal victory was all that was necessary to break the three way tie and secure the Championship. Again Dante DeLuca broke silence and put IMG up early 1-0. With goal and more goals as the theme of the weekend, Coach Pisano kept the pressure on and right before the halftime whistle Keoni Felipe put IMG up 2-0. As the second half started the game was in IMG's hands.
A 4-1 final titled IMG the 2009 Clearwater Puma Cup Champions!
U-15s
IMG vs. Olympique
IMG started off the tournament with a tough test vs. Olympique out of Orlando. They were a physical, but very technical team that caused problems on the counter attack. Olympique scored midway through the second half and had a chance to add to it with a PK five minutes later, but Everardo Collar came up huge making a save on the PK. IMG created numerous chances throughout the game, especially after Olympique scored, but were unable to capitalize. Will Smith had a strong game in attack and Juan Deschamps and Stephen Ravazzoli in defense.
IMG 0 - Olympique 1.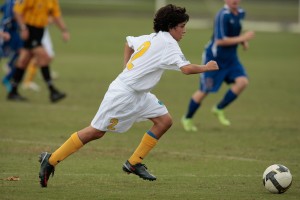 IMG vs. West Pasco
The second game of the tournament vs. West Pasco F.C. Thunder was a nice rebound game. IMG was determined to make up for missed chances in the first game and came out strong scoring 6 goals in the first half. A lot of players got on the scoreboard including, Gianluca scored a hat trick, Pablo Aguilar, Andrew Ezigbo, Juan Deschamps, and Alex Aldana all added one. Even with the plethora of goals, IMG demonstrated a disciplined defense and a dominant style of possession.
IMG 9 - West Pasco 0
IMG vs. Clearwater
IMG needed to get a good result in the 3rd match in order to secure a place in the final. Diego Torres led the way with awesome attacking movements, scoring a first half hat trick with assists from Danny Clark and Will Smith. Danny Clark added a goal in the first half and played very well in a forward position. Sustained attacking pressure gave IMG to second half goal, both provided by the services of Jeronimo Mata. IMG did well to keep Clearwater in check, with Alex Aldana, Stephen Ravazzoli, Craig Foley and Dennis Zeissner all having good matches.
Clearwater Charger Thanksgiving tournament Final
IMG Vs. Olympique
IMG were given another chance at Olympique and this time they were not going to walk off the field without victory. A tightly contested and entertaining match saw three lead changes and IMG battle back to tie twice. Olympique opened the scoring line early with a second minute goal. Danny Clark showed good poise and a high level of technique has he lobbed the goalkeeper from 15 yards to level the match at one. Although IMG began to take control of the match, Olympique struck again in he 17th minute, taking a 2-1 lead. Sustained attacking pressure on the left from Gianluca Carbone, Diego Torres and Craig Foley led to the second goal of the match for IMG. Carbone broke free on the left side and crossed nicely to set up an onrushing Will Smith for the tying goal. A few tactical changes at half-time allowed Pablo Aguilar, Stephen Ravazzoli and Jeronimo Mata get into the attack more often, proving to be dominant in midfield. The impressive defensive display of Juan Deschamps, Cameron Boone, Paul Sime and goalkeeper Everardo Collar saw Olympique only have one chance at goal in the second half. Substitute Hector Rojas gave IMG a boost in the first and second half, creating two chances on goal, missing just wide on both. Despite IMG's dominance in the second half, they had to wait until the 75th minute to get the match winner. Pablo Aguilar broke free in midfield, beat his man off the dribble and shot to the far post, beating the goalkeeper to his left, giving IMG their first lead against Olympique in their two matches. Substitutes Alex Aldana, Andres Pena and Dennis Zeissner sealed the win late by providing a boost to the team to close out the match.
Congratulations IMG 15s... Clearwater Thanksgiving tournament Champions!