Fast Break: Basketball tips with Coach Nate
December 09, 2009
by: Dan Tierney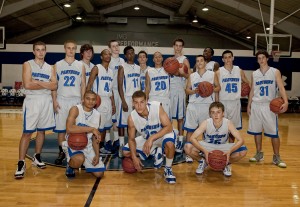 How does a team get better mid-season?
With most basketball seasons now underway, teams are starting to see more their personality and who they are as a team.
This realization can be positive or negative. It's good if your team is competitive, communicating well, helping each other and winning. It's bad if your team is losing games it could or should win, is fighting amongst itself, or has too many selfish players.
Whatever your team is now, it does not mean the identify of your team can't change mid-season. Take the Memphis Grizzlies, for example.
Last night, the Memphis Grizzlies knocked off the heavily favored Cleveland Cavaliers in an overtime thriller, with some interesting quotes emerging after the game.
From ESPN.com:
"We're playing together more," Zach Randolph said of the Grizzlies, who have won their last three and eight of their last 12 after a 1-8 start. "We're getting better every day. This is a confidence-builder for us."

"We're all trusting each other," Marc Gasol said. "Everybody's talking, pointing, helping each other, and we can see the results."
Both statements point to an improvement in team chemistry. Randolph says, "We're getting better everyday..." which says that they are doing a better job of preparation before the games. This is a concept that young players don't always understand. How you and your team perform in the game is predetermined by how hard you practice, how much you study the scouting report, how many times you have gone over your offenses and defenses in your head and what your focus is like in practice.
If you and/or your team are struggling, work on your focus, retention and practice habits. In doing so, you will provide your team with some stability and you will begin to see other teammates start to trust each other and start down the path to becoming a great team.
Nathan Vander Sluis is the Coordinator of the Developmental Program and a Player Development Specialist at the IMG Academy basketball program in Bradenton, Fla. Nate also played his college ball at Miami University (Ohio).