Weekend soccer recap: Teams travel to the Southwest
December 18, 2009
by: Dan Tierney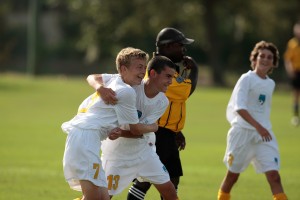 The U.S. Soccer Development Academy League is a partnership between U.S. Soccer and the top youth clubs around the country to provide the best youth players in the U.S. with an every day environment designed to produce the next generation of National Team players. The IMG Academy soccer program U-18 boys' team finished 3rd in the nation in 2009.
U-16 boys Academy League
Our first Showcase of the year in Phoenix, didn't produce the results we were looking for, especially since our recent string of 4 victories on the road gave us confidence that we were confident in our play to do well. Losing all 3 games was extremely surprising but also a very good lesson that we must stay focused in all moments of the game to be successful as a team.
Our 1st game against Potomac was a game I felt like was a pretty even affair. They were a physical team that competed well and were organized defensively which meant we had to be sharp in possession with our passing. This is where we let ourselves down. We didn't pass well at all and turned over the ball to Potomac without them even pressuring us on the ball. Throughout the whole game our passing was never in sync and we were made to suffer when they had a freekick 35 yards out. Potomac served the ball in the box in which our defense failed to head it out and in the confusion of runs in the box, the ball bounced in the box 2 times and went into the net untouched for a 1-0 lead in which we never recovered from and lost.
Chivas USA were up next and we were looking to rebound from the 1st game. We started well in the game and looked liked we matched up pretty even with them. It was back and forth with both teams having some chances but wasn't able to capitalize on any attempts. Again, our passing wasn't as sharp as we would of liked but overall we competed well with them and thought it was a game we could win and went to halftime 0-0. All year our biggest problem defensively has been defending set pieces. We give too many away and once again we were punished from a corner. Our defending was lax and the ball bounced into the box and a Chivas player was there to pounce on the loose ball to give them the 1-0 lead. It finished that way and left us disappointed that we let another game get away from us off another set piece.
Our last game against NJSA was real disappointing in every aspect. We certainly were a better team in possession and technical ability but it was our poorest showing in team defending and were punished for it. The final result was 4-2 and was a good example of what can happen if you are not focused during set pieces and aren't ready to win tackles that you should win defensively. Again, 2 goals off of corner kicks and our passing wasn't crisp in possession leads to poor overall performances as a team. Cameron Baskett scored off of a penalty kick and Gabriel Nunez scored off of a great individual strike 30 yds out for our 2 goals of the Showcase. That was our Showcase in a nut shell, individual performances were good, Steven McNeil, but couldn't play well as a team and that will not get you success in a League with so much quality. We need to put it behind us, and look forward to improving for the 2nd half of the season.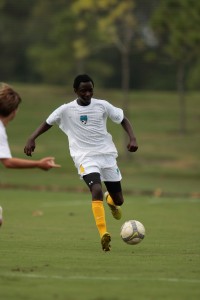 Consisting of some of Florida's elite soccer clubs, the Club Directors League matches IMG Academy soccer program boys' and girls' teams against top competition.
U-14 Boys: IMG 2, Brandon 0
After a rigorous early season schedule with 6 away games, IMG was more than ready to finally play a home game and it showed. To add more enthusiasm to the game, it was learned the day before that our starting keeper, Juan Carreon, was to be sidelined for medical reasons. So Miguel Trillo courageously volunteered to 'man the pipes' and did a fantastic job. He was very aggressive and composed coming out of the box to clear through balls and on crosses. IMG dictated the play from the start with its defensive tenacity barely letting Brandon out of its defensive half but only a few times in the 1st half. Many scoring chances were created, but IMG didn't capitalize until late in the 1st half off of a Stephen Ravazzoli finish from a corner kick. In the 2nd half IMG continued to control the game and netted a great volley by Alejandro from outside the box.
Besides Miguel and the goal scorers, several players stepped up to help IMG in the win...Sam Kuznicki made his first start of the season and was fantastic. He was very confident on the ball, keeping possession in the attack and making penetrating passes in the final third. Brandon Ordonez started at center back for the first time and aided Logan Moriarty in shoring up the defense. Mauricio Nieto came in off the bench midway through the first half and played the rest of the game, adding a much needed spark to the team.
IMG - 2, Brandon - 0 (Miguel Trillo shutout)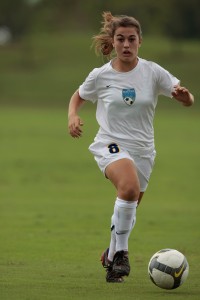 U-18 girls: Final IV Showcase Houston, TX
It was a long weekend, and we came back with mixed feelings. On one hand, happy to feel the Florida weather, but a bit disappointed in the soccer side from the weekend. Losing 2 and wining 1 from 3 games can be disappointing. As always, lack of effort was not an issue, as all of the girls put in the work. Of course, as athletes we want to win and we went for it in every game, but at the same time, it is a college showcase and another part of our job as coaches is to do our best to maximize all our players' abilities and get them time on the field.
A slow start was not surprising in the first game, even after a long extended warm-up. After the first 10 mins, we found our feet and were on top of our opponents; trying to play in their half of the field. We managed to get rewarded for our efforts when Sammie Matthews converted off a corner after a poor clearance. It stayed 1-0 until the last 10mins when a combination of lack of concentration and maybe lack of a couple offside calls, we conceded 2 goals in 2 mins. Couldn't find a way back into the game after that.
The start was a lot better in the second game, we dominated the whole game. After 10mins of relentless pressure it was only a matter of time before we opened the scoring. After some good work down the wing by Sydney Payne, she squared the ball cross the box for her sister Shelby Payne. Minutes later, Jessica Bartol added to the tally with a shot just outside the box. Jessica then added to her own tally making it 3-0 before half time with a good finish from another ball squared back from the goal line. It ended 3-0, but could have been more if our finishing was as clinical as the first half.
The last game proved to be the most difficult. We played against a well-organized team who were very physical; late at night, cold weather and muddy field. So no need to say it was a scrappy game and lack of concentration again being our downfall letting in two goals in 6mins. It was a tough mountain to climb but they played hard and could have done better with a few chances. Then an unfortunate own goal in the middle of the second half proved to put the game beyond any doubt. There was one bright spot when Julie Taylor scored from a very good strike 25 yards out. So it ended 3-1.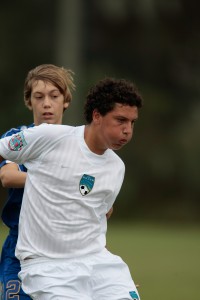 U 19 Boys: The Sport Source Showcase Dallas, TX
IMG 3, Solar 92 Gold 0
IMG came ready to play putting a lot of pressure on the solar team leaving them not to be able to pass over the half way line. The IMG lines were compact and put a lot of passes together, playing good soccer, creating a lot of goal opportunities. The entire team played a solid game. Diego Rodriguez scored all 3 goals for IMG. Tony Liebel played a great game in goal.
IMG 5, Lonestars 92 Blue 4
IMG played a very good first half pressuring Lonestars in their half, playing good soccer, connecting passes and creating chances to score that were capitalized by Diego Rodriguez, Rygo Morales and Felipe Picado to go up 4-1 at the end of the first half. The second half started the same way with IMG controlling the actions playing 1-2 touches and creating more goal opportunities. A very well taken free kick by Lonestars changed the momentum of the Game to make it 4-2. IMG was still playing going forward and never gave up the pressure and with the score 4-4 Brandon Patten scored on a PK for IMG to put the game away. Juan Jimenez played in goal for IMG.
IMG 1, Kansas City FC 2
KC came out strong, winning every tackle and air ball, playing very physical soccer. IMG could don't find their rhythm and were very flat not being able to connect their passes thus allowing KC to go up 2-0 in the first half. The second half IMG came out with a different attitude and played better soccer. We started to win 50/50 balls and created chances to score, paying off with a goal by Daniel Gonzalez. The last minutes of the game had IMG pressuring and having chances to tie the game but time ran out. Now we know we can not show up for just one half. That was the difference in the game. Nicholas Gilbert played in the goal for IMG.
U-17 boys: The Sport Source Showcase, Dallas, TX
Two losses and one tie: 2-1 loss to F.C. DALLAS, 0-0 tie against TEXAS RUSH, and 2-0 lost against F.C. TEXANS.
Only one goal scored ( PK by Matias Rubio) , 4 goals scored against ( 2 PKs, one on corner kick and one in offside ).
On the positive note , 170 teams participated at this event , our players were scouted by over 200 College coaches. Some of the coaches showed interest in our boys .