Fast Break: Basketball tips from Coach Nate
December 21, 2009
by: Dan Tierney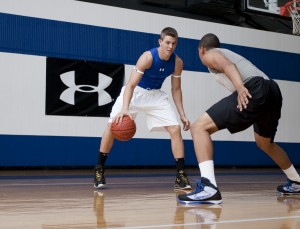 Staying in game shape over Holiday Break
The holiday break is upon us and with that comes an interesting and important time in the basketball season. Teams have had good starts, bad starts and average starts but as many people, coaches and players will tell you, it is not about how your season starts but how you finish.
With that said, the next two or three weeks can really make or break your season. Depending on your practice and game schedule you may have one day, two days or maybe even a week or two off from the game and your team. The more time you have off, the more you need to be aware of what you are doing to prepare yourself for the second half of your season.
Here are some daily things that players should work on during their break.
Cardio - Every day players should do at least ½ hour of Cardiovascular work (Bike, Treadmill, EFX or Running)
Ball Handling - Do 10 to 15 minutes of various handling drills. All players need to continue to build their comfort level with the ball. Push the speed of your dribble using some basic dribbling drills.
Shooting - If a gym is available, players should get in and spend 10 minutes of form shooting and 20-30 minutes getting game speed and intensity shots. If a gym is not available, find some open space and work on perfecting your release shooting the ball into the air and making sure you get correct rotation so that the ball comes straight down back to you.
If you find a way to get those 3 simple exercises done every day, you will stay ahead of the curve whenever you get back into the swing of practices and games.
Also, if you have the time off, the IMG Academy basketball program Academy is offering a Holiday Intensive Shooting Camp from Dec. 28 - 30. The Holiday Intensive Shooting Camp is designed to help players of all levels become a better, more compact and more confident shooter.
The three-day camp will cover all aspects of shooting and will greatly benefit any player that chooses to spend part of their holiday break with us.
Nathan Vander Sluis is the Coordinator of the Developmental Program and a Player Development Specialist at the IMG Academy basketball program in Bradenton, Fla. Nate also played his college ball at Miami University (Ohio). Contact Coach Nate at nate.vandersluis@imgworld.com or 941-752-2625.