Philadelphia's Kendrick and Moyer do Winter training at IMG Academy baseball program
January 11, 2010
by: Dan Tierney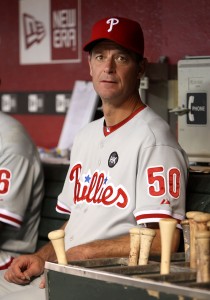 Jamie Moyer is a 47-year-old lefthander, who has done pretty much everything a pitcher can do in the Major Leagues.
Kyle Kendrick is a 25-year-old righty just trying to earn a spot in the rotation.
This offseason, the Philadelphia Phillies teammates are training together at IMG Academy.
From phillyburbs.com:
The favorite to open the 2010 baseball season as the Phillies' temporary fifth starter began his Friday with a strenuous morning workout with a personal trainer at IMG Academy baseball program in Bradenton, Fla.

Afterward, pitcher Kyle Kendrick had lunch with the old fellow that he could be filling in for come April, longtime mentor and teammate Jamie Moyer.

"I love this facility I'm working out at," Kendrick said by phone. "I've been throwing, getting in shape + getting ready to go. It's been great."