IMG Academy soccer program alum Blair Gavin picked 10th in MLS SuperDraft
January 14, 2010
by: Dan Tierney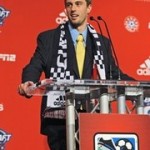 About four years ago, Blair Gavin followed in his big brother's footsteps in attending the IMG Academy soccer program.
Gavin learned today that he'll be able to again follow his brother -- this time to the professional ranks -- when Chivas USA drafted Gavin No. 10 overall in the MLS SuperDraft.
Gavin recently spent some time training at the Academy (before leaving for the SuperDraft in Philadelphia) and answered questions about earning a Generation adidas contract, his time at the Academy and the infamous penalty kick in the NCAA men's soccer championship.
Blair Gavin on...
...his decision to turn pro after his junior year: I had a pretty solid year at Akron. I wasn't expecting it at all, but my coach called me and said there was a good chance Generation adidas would be contacting me. They sent out an offer, and it's been my dream to play professionally. It was a great offer, and I couldn't pass it up.
...University of Akron's 23-0-2 season that ended in a title game loss: I think it was a great year. We showed the community and fans that Akron is on the map as one of the best teams in the nation. We wanted to show people that Akron is going to be a dominant team for years to come. It was a tough way to end because we didn't get the hardware, but I have confidence in the guys coming back that they'll raise the trophy.
Nobody expects to go undefeated for that long, but every time we stepped on the field, we believed we were going to win. If you have the mindset, it spills onto the field and it worked for us. That confidence, we just thrived on. Once we started seeing the team below us in the rankings with two or three losses, we knew we were achieving something.
...missing the final PK in overtime of the national championship after making the final PK that won the semifinal match for Akron: As soon as I left it my foot, I was in shock. I just dropped to the ground, stunned. It was kind of surreal. The fact that one kick lost it was kind of unbearable. People have said, "It happens. It's a tough way to lose. It's happened to a lot of people." But as much as they say that, it still hurts. I still think about it constantly. But I've learned from it. I know I can't let that one moment determine my career or change me as a person. Next time I step up to take a kick, I'll do it with confidence.
...the IMG Academy soccer program to Akron pipeline: Ampai (Anthony Ampaipitakwong) and I went to Akron together, then Enrique (Paez) came and now we have two more going to Akron next year (IMG Academy soccer program seniors Reinaldo Brenes and Martin Ontiveros). Coach Caleb is an unbelievable coach. Very personable. He wants you to get better and improve your skills. He thinks that while he's building a champion in the player, the school will eventually win championships.
...training at IMG Academy: It was the best opportunity for me to grow as a player. It was a big step to leave my family, but I actually got noticed by Akron down here, so it all worked out.
The first day I showed up, I called my mom like, "What do I do?" She basically told me that I'm on my own, and I have to figure stuff out myself. From the first day, I grew up a lot. Even the simple things, like managing my time, really helped the transition to college life.
It's just a professional atmosphere here. They always have balls pumped for you. Everyone's in the same jerseys. The fields are completely perfect. You play against guys who are quality. You have six or seven of the country's top coaches, so you get feedback to help your game from a bunch of different eyes. Learning about the different cultures and meeting all these new people are huge bonuses. I've made life-long relationships that really enhanced my experience here.
...his role as a defensive midfielder: I'm just like most people -- I started at forward and slowly moved back. Goals get your name in the paper, but it's okay. I like distributing and linking up with everyone. My favorite player of all time is probably Zidane. His vision. His passing. And his "escapability" was unbelievable.
...advice from his older brother, Michael, who was chosen No. 4 by L.A. Galaxy in the 2008 Supplemental Draft: He's shared a bunch of stories with me and gave me some advice. He told me that people are really fighting for a job and trying to take care of their families. They don't care that you're Generation adidas. They're going to come after you, and you have to fight back and earn your respect. You can't take anything for granted.