Daniel Jaramillo wins the FCWT Leadbetter Challenge!
January 24, 2010
by: The Leadblogger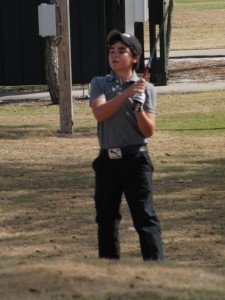 Ninety golfers teed it up this past weekend at the FCWT Leadbetter Challenge at the IMG Country Club. The windy conditions both on Saturday and Sunday made for a very challenging weekend. Those golfers that handled the conditions, played smart and stayed patient were the ones that found themselves at the top of the leader board on Sunday.
The Boys 13-15 age group was the field to watch as 7 boys finished within three shots of the champion! Daniel Jaramillo, a 2014 graduate and from Colombia, began the day one stroke back of the overnight co-leaders, then found himself tied with friend and fellow IMG'er Bernardo Curbelo at the end of 36 holes of play. Daniel made short work of the playoff by winning on the first hole. This was Daniel's first FCWT win in the 13-15 division. For Bernardo, only 12 years old, it was his second Top 3 finish of the season. One stroke back of Daniel and Bernardo and finding himself taking 3rd place honors was Osama Khan of Barbados. Nine Leadbetter golfers found themselves taking the top 8 spots in this younger boys division. Rigel Fernandes finished 4th and was followed by Ben Davis of the Bahamas who finished in 5th place, just 3 strokes back of the leader.
David Yan, who finished 6th in the 13-15 division took Low Round honors on Sunday along with Bernardo Curbelo and Osama Khan after all three of them shot 76 on Sunday.
In the girl's 13-18 division, Leadbetter golfers, Sammi Stevens and Jordan Lippetz found themselves in familiar territory. Sammy finished in 2nd place with rounds of 73-76 for a 159 total. Jordan, who found herself in 7th place entering the final round, put in a great last day effort by shooting 77 which was good enough to move her into 3rd place.
In the boys 16-18 division, Leadbetter Golfer Oliver Vaidis, of the Czech Republic found himself in the final group on Sunday. Oliver shot a first day 73 which put him 3 shots back of first round leader Sam Love. Oliver played consistent on the final day shooting 74 and finishing in 2nd place - two shots back of the champion, Peter Valasek of Orlando.
Congrats to Daniel, Bernardo, Osama, Sammi, Jordan and Oliver on your fine play this weekend!
For complete results, click here!