Ai Miyazawa wins at Black Diamond!
February 01, 2010
by: The Leadblogger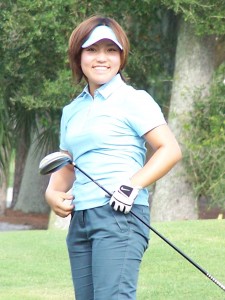 Eighteen IMG Academy Leadbetter golf program Golfers headed a couple hours north this past weekend to compete at the FCWT Black Diamond Challenge. Black Diamond is a very unique Florida course as it winds around an old stone quarry. It has been ranked a Top 100 course for the last 19 years by Golf Digest. The 14th, 15th and 16th holes are carved over and around canyon walls and combine challenging shot making opportunities with awesome views. This stretch of holes (including 17 & 18) has been called "the best five consecutive holes of golf anywhere in the world".
The golfers found the weather windy and cold with the temperatures never reaching 50 degrees.
In the girls 13-18 division, Ai Miyazawa of Japan (2011), in her first year at IMG, won in a playoff. Ai shot 77 on Saturday and found herself tied for the lead entering Sunday's final round. She followed up with a 76, but after 36 holes of regulation play she found herself tied with Courtney Boe of Hilton Head Island. So they headed back out to the course and Ai won on the 2nd playoff hole with a par.
This is Ai's first win here in the United States.
Fellow IMG Golfer, Halley Leadbetter finished 1 shot back of Ai and Courtney for a 3rd place finish after shooting 77-77. Sophie Hayashi finished in 5th place with rounds of 80-76=156.
In the boys 13-15 division, James Leadbetter found himself taking runner-up honors. James shot 75-74 for a 149 total. Fellow IMG golfers, Rigel Fernandes and Dave Yan also took Top 5 honors in the younger boys division.
In the boys 16-18 division, Post Grad golfer, Abishek Ruia made a big move up the leader board on Sunday after shooting a 71 and earning Low Round honors.
For complete results- click here.