IMG Academy soccer program U-18s scrimmage Columbus Crew
February 10, 2010
by: Dan Tierney
On a soggy and windy Florida afternoon, the IMG Academy soccer program U-18s found out first-hand what it takes to compete at the professional level.
The U-18s on Tuesday took on Major League Soccer's Columbus Crew in a 60-minute scrimmage, with the Crew currently spending two weeks at the Academy doing preseason training.
The Crew struck early when fifth-year forward Jason Garey put a shot past IMG Academy soccer program goalkeeper Mark Bixler. With the Academy players struggling to keep possession due to nerves, slick conditions and pressure from the Crew, Garey would put two more in the net to complete his hat trick.
Midfielder Adam Moffat completed the Crew's 4-0 win when he clinically finished off the inside post late in the match.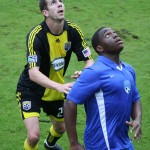 Some observations:
* Bixler played well, not conceding any second-chance opportunities and getting off his line to thwart a few opportunities for the Crew.
* Academy defender Ambry Moss stood strong despite giving up size to most of the Crew defenders.
* Reinaldo Brenes was all over the field to pick up loose balls and trying to spring Academy forwards.
* The match will undoubtedly help the team during upcoming U.S. Soccer Development Academy League games as it tries to return to the national championships in 2010.