The IMG Academy School at IMG Academy ranked 8th in PG Crosschecker Top 100
February 24, 2010
by: IMG Baseball Academy
PG Crosschecker released their High School Top 100 Teams along with team capsules. Below is the write up on the 8th ranked IMG Academy School at IMG Academy.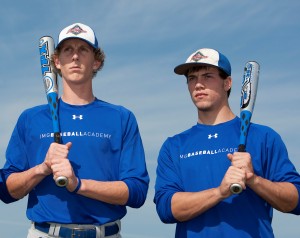 8. THE IMG Academy SCHOOL / IMG ACADEMY, Bradenton, Fla. (30-1)

Despite not being part of the traditional high-school structure in Florida, the Panthers arguably had the most talented team in the state last year and will be loaded again in 2010. Gone is first-team All-American C J.R. Murphy (.627-11-66), who signed with the New York Yankees, but the Panthers have six seniors who have committed to Division I colleges. The pitching staff should be dominant as RHPs Casey Mulholland (6-0, 1.39; 40 IP/73 SO), a Mississippi recruit; and Jimmy O'Neil (8-0, 2.40; 50 IP/63 SO), a Stetson recruit, will be joined by RHP Blake Perry , a Kentucky recruit who has transferred in for his senior year. The offense will be led by UC Irvine shortstop-recruit Dillon Moyer (.398-2-17, 15 SB). Two other D-I recruits will lend support in the batting order.