James Yoon wins the FCWT Plantation Inn Open!
February 28, 2010
by: The Leadblogger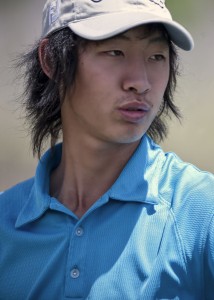 The IMG Academy golf program traveled a couple hours north this weekend to Crystal River to play in the FCWT Plantation Inn Open! The weather, once again this weekend, proved to be challenging with the chilly temperatures and strong winds.
IMG Golfer, James Yoon, of Paraguay, won the 36-hole event on Sunday. Now playing in the 16-18 division he has been in search of his first FCWT win. He won this event last year in the 13-15 age group. His first day of 4-under par 68 on Saturday was good enough to enter the final round with a two shot lead over fellow IMG'er Gary Dunne of Wicklow, Ireland. James followed up his 68 with a second day 77 which turned out good enough to earn his first win of the year! Gary ended up shooting 79 on Sunday which put him in a tie for 5th place.
Ryan Benevides, of Bermuda and also an IMG golfer, made a great push on the final day. Ryan has made steady improvements over the year and was bound to eventually put himself in position to win. Ryan opened with a first day 72 and followed it up with a 2-over par 74 on Sunday. He finished in 2nd place, only one shot behind James Yoon.
Kristian Sorenson, a Post Grad student at IMG, finished in 3rd place after rounds of 75-73.
Three IMG Academy Leadbetter golf program boys found themselves with top 5 finishes in the Boys 13-15 age group. Daniel Jaramillo followed his first round of 80 with a nice one-over par 73 on Sunday to finish in 3rd place. James Leadbetter and Rodirigo Munoz finished in tie for 4th with 154 totals.
Daniel's younger brother, Martin Jaramillo, made a great push in the Boys 11-13 division. Martin, of Colombia, shot rounds of 79-77 to finish in 2nd place and only a shot behind the winner.
Two of the IMG girls finished strong in the girls 13-18 age division. Ai Miyazawa was the first round leader with a one-over par 73, but followed it up with a 79 to finish in 3rd place. Mint Kongkiatkrai started Sunday one shot behind Ai and followed it up with a 76 on Sunday which put her one shot behind the eventual winner.
Congratulations to all of you on your fine performances!
For complete results - check out the FCWT website at www.fcwtgolf.com