Meet Katerina Prorokova......a future UNLV Rebel!
March 05, 2010
by: The Leadblogger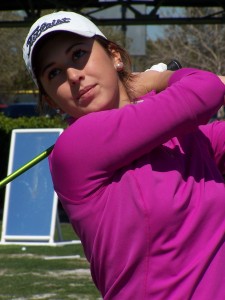 Katerina Prorokova
Roznov pod Radhostem, Czech Republic
Grad year 2010
2 years at IMG Academy golf program
"Katerina is a very serious and dedicated person. She has a good plan and this has allowed her to achieve her process goals. She is a model student and is very coachable. She believes in the holistic approach: as she incorporates her golf as well the physical, the mental and nutrition into her daily routine". -Jason Suedhof, IMG Academy Leadbetter golf program Instructor and Katerina's golf instructor.
Katerina has spend the last two years at the IMG Academy golf program. She originally was only planning on staying one, but after her first year here, she knew she wanted to come back. She had made such great improvements here her first year, she knew then she wanted to stay in the states to play college golf. So that extra year here has done great things for her game, her English, her studies and opened many doors for college opportunities.
Over the last few months Katerina has had the opportunity to make official visits to 4 different colleges/universities. She traveled to the University of San Francisco, New Mexico State U, UC Boulder and UNLV.
Last week she made her choice - UNLV! After her visit Katerina knew it was the right choice because it just felt "right"! She also chose UNLV for the coach, the players on the team, the golf courses and facilities.
She finds the coach, Missy Ringler, has lots of energy and enthusiasm. She also has lots of experience and has produced many good teams and individual results.
Katerina feels the biggest difference between IMG and UNLV will be the independence of making her own decisions day in and out. The weather will also be a big difference - as it is so much dryer in Neveda. She feels the weather during the school year will be conducive to practicing and playing.
She also had an opportunity to meet a college athlete currently playing basketball at UNLV from her home country. So she said having that connection was nice.
She has also done her travel research. As she says she can travel a few hours to the west and get to California beach or travel a few hours north to go skiing in the winter. She also knows the travel hours might be longer to get back to the Czech Republic, but the connections will be better since Las Vegas is a major city. So the location was ideal.
When reflecting on her time at IMG she says she has learned and experienced so many things. She has learned how to be more responsible for herself, how to manage her time as well as be disciplined and focused day in and out. She also likes to be busy and the schedule here is always very busy. But she says the greatest thing about being at IMG is that she is among so many other athletes working hard and dedicated to getting better.