Leadbetter Girls take 3 of the Top 5 spots at the Kathy Whitworth Invitational!
March 16, 2010
by: The Leadblogger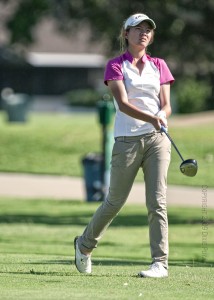 Seven IMG Academy Leadbetter golf program golfers were invited to compete at the 2010 Kathy Whitworth Invitational which was held at the Mira Vista Country Club in Fort Worth, Texas yesterday and today (March 15-16).
Tanaporn "Mint" Kongkiatkrai put herself in good position after day one after firing an even par 72 on Monday. This put her a shot behind the overnight leader.
On Sunday, Mint shot a 3-over par 75 in rainy conditions to end up in a tie for 1st place with Emily Collins of Texas. So they headed back out to #18 for a sudden death playoff. Emily made a 4 while Mint made a 5. It was a heartbreak of a loss for Mint after two fine days of play in tough Texas weather!
Making a big move today was first year IMG'er, Ai Miyazawa of Japan. After opening with a 76 on Monday, she bounced back with an even par 72. Ai's 72 on Tuesday was the low round of the day. Ai finished a shot back of the playoff and finished in 3rd place.
Texas native and IMG golfer, Sammi Stevens rounded out the fine play of the Leadbetter Golfers. Sammi shot rounds of 77-75 which was good enough to tie for 5th place.
Also competing in Texas from IMG where Hally Leadbetter, Christina McQuiston, Gemma Dryburg and Pei Chun "Mason" Chen.
Congrats Mint, Ai and Sammi for your Top 5 finishes!
For complete results check out www.kathywhitworthinvitational.com