Pastornicky debuts in Blue Jay's big league Spring Training game
March 23, 2010
by: IMG Baseball Academy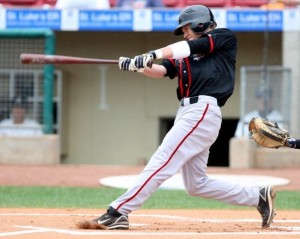 IMG Academy baseball program graduate, Tyler Pastornicky, got his first taste of big league Spring Training when he traveled with the big league club to Lakeland, FL for a game against the Detroit Tigers. Just a week before, the 20 year old Pastornicky played in his first spring game, entering in the 8th inning and going 0-1 at the plate. This trip was different however, as Pastornicky made his first start at shortstop, where he played the entire game.
He didn't waste anytime in the batter's box during his first at bat. Facing Armonda Galarraga, Pastornicky laced a single up the middle on a first pitch fastball.
"I knew he was going to try to sink one on me, and I just wanted to jump on the first good pitch I saw" commented Pastornicky.
He scored two batters later after moving to third on a double down the left field line.
Pastornicky was a 5th round selection by the Blue Jays in the 2008 First Year Player Draft. The Florida State commit decided to sign with Toronto and has been making waves ever since. After a successful first year (.269 avg. with 51 SB) with the Lansing Lugnuts of the Midwest League, Pastornicky received a late season call up to the Dunedin Blue Jays of the Florida State League, where he hit .270 in 15 games and swiped another 6 bags.
After getting his feet wet, Pastornicky rejoined the rest of the Blue Jay minor league players in camp where he continues to swing a hot bat. All indications point to Pastornicky starting the season at High A Dunedin where he finished the season last year.