Murphy having an impressive spring in Yankee minor league camp
March 30, 2010
by: IMG Baseball Academy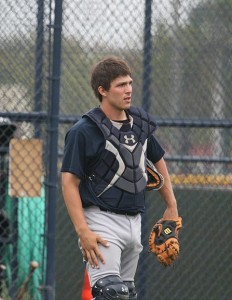 Murphy Exceeding Expectations in Camp
By: Patrick Teale
PinstripesPlus.com
Tampa, FL - As talented as he is, one of the more surprising things at the minor league complex this Spring Training has been all of the playing time J.R.Murphy has garnered. Seemingly destined for Extended Spring Training before camp opened, he not only has been playing himself into more time, he might have exceeded everyone's expectations thus far, including himself.
"I'm liking it," J.R. Murphy said of his first Spring Training camp. "I got here early so I've gotten the hang of things. I think I've adjusted pretty well and I'm getting a lot of work in."
The proverbial hand writing was on the wall when he saw his named assigned with the Tampa work group when camp opened, a normal sign that a first-year player is destined for minimal paying time in Spring Training as the backup and seemingly destined for Extended Spring Training once camp ended.
However, outside of Thursday's away game, Murphy's name has been inked into the everyday starting lineup, either as the team's catcher or their designated hitter.
"I really didn't know what to expect coming into my first camp, " he said. "I feel like I've gotten a lot of innings and a lot of good work in. I feel a lot better behind the plate.
"I think I'm doing real well. I think my catching is really coming along. I feel much more comfortable back there. Hitting, I 'm seeing the ball really well. I'm barreling a lot of balls up so I feel like I'm doing a lot better than expected."
Hitting the ball hard all three times in his last start on Wednesday and even gunning down a would be base stealer at third base, the fact is he has impressed on both sides of the ball and he has been doing it nearly everyday.
But having success hitting in the heart of the Tampa Yankees lineup thus far and playing well defensively hasn't cleared up his immediate future any.
"They really haven't given me an indication of where I'm going to be, " he admitted. "I really don't know, but I don't know if I was expecting to play this much on the Tampa team, but I 'm liking it. I'll keep playing."
With a little more than a week left in camp, Murphy acknowledges that he has no control of where he breaks camp and he simply wants to keep things going for now.
"I think the same thing that I've been working on, still working hard on receiving behind the plate, that's probably my main goal," he said.
"Other than that just picking the ball up early off a pitcher's hands, which I feel I've been doing a good of job of, reading spin early and picking it up early and laying off of a lot of good pitches. I've seen a loft of pluses."