Four states, one weekend = 4 wins, 4 seconds and numerous low rounds!
April 05, 2010
by: The Leadblogger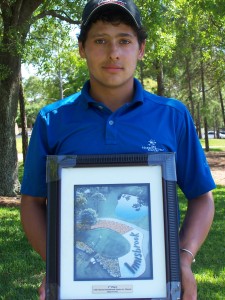 Innisbrook Easter Classic
The Island Course (Innisbrook)
Tarpon Springs, FL
April 1-4, 2010
Seventeen IMG Academy Leadbetter golf program Golfers teed it up this weekend on the picturesque Island course to compete in the 2010 Innisbrook Easter Classic. With tight fairways, intimidating water hazards, abundant bunkers, and extraordinary elevation changes, the Island Course is considered by many to be as equally demanding as the Copperhead course. The Island's first six holes are bordered by beautiful Lake Innisbrook and lateral water hazards that require pinpoint accuracy on tee shots and approaches. The middle six holes feature rolling hills dominated by cypress and pine trees. The final third of this course boasts a mixture of holes designed to reward the bold and penalize the errant golf shot.
This course did prove challenging for many, but Post Grad golfer Keagan Cummings and FT golfer Bryce Burke came out as the Champions of their respective age divisions. Keagan, competing in the 14-18 group, fought until the final hole of the 54-hole event. He shot rounds of 71-75-74 for a 220 total to win by a shot.
Fellow Irishman, Jack Hume, found himself with a 6th place finish with rounds of 76-75-77.
First year full-time golfer, Bryce Burke of South Africa, found himself on the top of the Leaderboard of the Boys 13 & Under age group. Bryce shot rounds of 71-76 for a 147 total and won by 3 shots. This is Bryce's first win here in the states.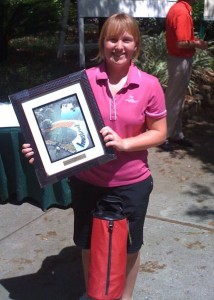 Gemma Dryburgh, of Scotland, found herself improving each day and her efforts were good enough for a 2nd place finish in the girls divison. Gemma shot 81-77-74 for a 232 total.
Clara Teixeira, of Brazil, finished in the top 5 with rounds of 83-83-77.
Congrats Keagan and Bryce on your Easter Classic wins!
FCWT St. Andrews Open
St. Andrews Golf and Country Club
West Chicago, IL
April 3-4, 2010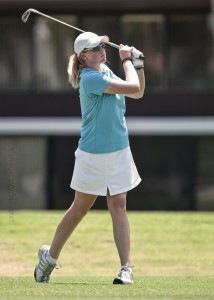 Jordan Lippetz earned her first FCWT win of the season after traveling North (way north) to compete at the St. Andrews Open, in West Chicago, IL. Jordan took the lead on Saturday and never looked back. Jordan, a 2013 graduate, entered this event with two top-10 finishes this season and now has added a win to her resume. Jordan's first round of 77 consisted of 1 birdie and 10 pars and led the tournament entering the final round by 3 strokes. On Sunday, Jordan had 3 birdies and 9 pars which was good enough for a final round 74 and a 7 stroke victory!
Congrats Jordan on your first 2010 FCWT win!
HJGT Easter Challenge
Mission Inn -El Campeon
Howey-in-the-Hills, FL
April 3-4, 2010
First year Full-Timer Rodrigo Munoz of Mexico, traveled a few hours north over the Easter weekend to compete in the HJGT's Easter Challenge. The boys 13-15 Division proved to be exciting as there were four players with legitimate chances of taking home the title after their opening rounds on Saturday. Coming into the final round Reid Rathburn of Alpharetta, Georgia and Ryan Fitzgerald of Ponte Vedra Beach, Florida held a four stroke lead over IMG's Rodrigo Munoz; however, their lead continued to shrink throughout the day as Rodrigo flirted with red numbers. Both Rodrigo and Reid Rathburn would battle back and forth down the stretch; however, after a disastrous double bogey by Rathburn on the Par Four, Eighteenth Hole, Rodrigo was crowned the Champion by a single stroke. Rodrigo maintain a perfect par average on the Par Four's on Sunday which helped propel him to his first HJGT win in 2010!
Congrats Rodrigo on your hard earned win!
AJGA Junior
Copperhead/North Courses (Innisbrook)
Tarpon Springs, FL
April 1-4, 2010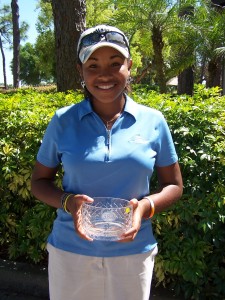 Seventeen IMG Academy Leadbetter golf program golfers were eligible to compete in the AJGA Junior Classic, a 54-hole stroke play event held at Innisbrook Resort & Golf Club over Easter weekend. The 210-player field featured players from 30 states, and 5 foreign countries. The Boys Division played the Copperhead Course at 7,330 yards, while the Girls Division played the North Course at 5,800 yards.
Tree-lined fairways and rolling terrain define the course - a lengthy challenge for even the longest hitters at more than 7,300 yards. The boys in the field had the opportunity to enjoy tour like conditions as the PGA just played the Copperhead course during the Transitions event. The Copperhead is striking in beauty and a true test of golf.
Long time IMG'er, Cyril Suk found himself entering Sunday's final round with a two shot lead over the field. However, Cyril found him struggling on the final day and turned in a final round of 81 which dropped him to 12th place.
Fellow Leadbetter golfer,Tanapol "Petch" Vattanpisit, started the day in 28th place, turned in a great even par round of 71 on Sunday and moved up 20 spots to finish in 8th place. By virtue of finishing in the Top 10, Petch has now gained exempt status on the AJGA tour!
Meanwhile on the Girls side, five Leadbetter golfers were making a push for the top spot on Sunday. Known for its daunting par 3s, the North course features tight fairways, an abundance of trees and well-bunkered greens, placing a premium on accuracy from tee to green.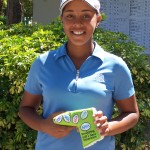 Ginger Howard turned in a great final round performance. Starting the day in 4th place, Ginger shot a 1-over par 71 and moved into 2nd place. Ginger shot rounds of 74-68-71.
Her younger sister, Robbi, earned Low Round honors on Sunday by virtue of shooting an even par 70.
Rounding out the top 10 were Doris Chen in 4th place (77-67-72), Robbi Howard in 8th place (73-75-70) and Hally Leadbetter in 9th place (75-74-71).
Congrats to you all on your fine play!
AJGA Laredo Energy Junior
The Traditions Club at Texas A&M
Bryan, Texas
April 1-4, 2010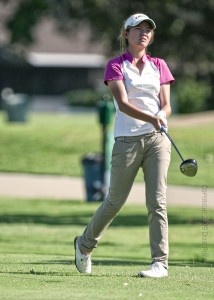 The Laredo Energy Junior at Traditions was a 54-hole stroke play event conducted by the American Junior Golf Association at the Traditions Golf Club at Texas A&M in Bryan, Texas. The tournament field boasted 89 boys and 42 girls, ages 12-18, from 21 states, Canada, Guatemala, South Africa and Mexico. The Boys Division played the par-72 course at 7,000 yards and the Girls Division played at 6,159 yards. Following the second round, cuts were made at 153 in the Boys Division and 158 in the Girls Division to include 49 boys and 21 girls for the final round.
The Traditions At Texas A&M features stately hardwoods, many natural creeks and wetlands, and striking vistas of Kyle Field and the University skyline. This Nicklaus design provides golfers with a true test of golf.
Three IMG golfers headed west to compete, however, it was Tanaporn "Mint" Kongkiatkrai of Thailand, who found herself in contention. Mint ended up in 2nd place with a 2-over-par 218. Mint shot rounds of 72-72-74.
Mint has made a huge jump in the AJGA rankings over the last year. One year ago Mint was ranked 121st and now in one short year she finds herself ranked 18th in the country!
Congrats Mint on your fine play in Texas as well as over the last year!
AJGA Junior All-Star at Chateau Elan
Chateau Course
Braselton, GA
April 1-4, 2010
Conducted by the American Junior Golf Association, the Junior All-Star at Château Élan featured 96 boys and 36 girls, ages 12-15, from 29 states and five foreign countries. The 54-hole stroke play event was staged on the par-71 Château Course at Château Élan.
Five IMG Academy Leadbetter golf program golfers headed eight hours north to face contoured fairways and thick Bermuda rough. The golfers found the three lakes and two creeks and 87 bunkers a good test of golf.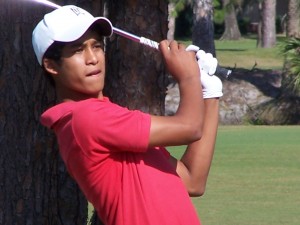 Rigel Fernades, playing in his first AJGA event, found himself in contention from the start of the event. If you haven't been keeping up with Rigel - lets recap his last 7 months….. Six wins, two seconds and two other Top 5 finishes. He has maintained a 73 scoring average over his last 30 tournament rounds! So needless to say, he was bound to find himself in contention!
Rigel, a 2013 grad, fought till the end but came up a shot short. He finished 2nd after three solid rounds of 74-73-71.
Keep up the great golf Rigel! Well Done…..