Jordan Lippetz wins back-to-back weekends!
April 12, 2010
by: The Leadblogger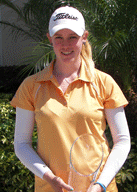 Jordan Lippetz captured her 2nd title in as many weekends when she won the girls 13-15 title at the Florida Junior Tour's (FJT) event at Shingle Creek Golf Club in Orlando, April 10-11, 2010.
Jordan, a 2013 graduate, has been busy the last two weeks competing in the Midwest a week ago. Last she played in the FCWT St. Andrews Open in West Chicago, IL over the Easter weekend. There she shot 77-74 and won by 7 shots.
But it was back to Florida golf this past weekend and she found herself in familiar territory heading into the final round. She found herself 2 shots back of the first round leader.
However, after 36-holes of play Jordan found herself tied with Christina Foster, of Concord, Canada with a 146 2 day total. After the scorecards where signed the girls headed back out on to the course for a sudden-death play-off. The first hole ended in a tie, but it was a birdie for Jordan on the 2nd hole which secured the victory. Jordan shot rounds of 73-73.
This is Jordan's third win on the FJT tour this season. Congrats Jordan.
Also competing at the same event in the Boys 13-15 division was Daniel Jaramillo. It was a very strong field of 60 boys and Daniel found himself in 2nd place at the end of play. He shot two solid rounds of 68-74. Fellow IMG'er, Jeremy Walsh also found himself finishing in the Top 10. Jeremy shot a nice 2nd day 71 to go along with his 76 in round one.
Nice playing Daniel and Jeremy!
For complete results check out www.floridajuniortour.org