IMG Academy lacrosse program helps debut new Meadowlands Stadium
April 19, 2010
by: Dan Tierney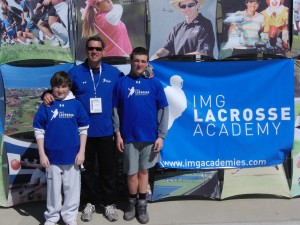 The IMG Academy lacrosse program traveled to NYC last weekend to be a part of the Big City Classic at the new Meadowlands Stadium -- home of the New York Giants and Jets. The lacrosse event was a Division I tripleheader featuring Hofstra/Delaware, Virginia/Carolina and Syracuse/Princeton. More than 25,000 lacrosse fans enjoyed the first event in stadium history and were treated to some amazing lacrosse.
Fans from all over the east coast were introduced to the IMG Academy lacrosse program, which spent the day educating young lacrosse players and parents about our facility and how it's the most unique lacrosse experience in the world.
"It was great to promote the IMG Academy lacrosse program to hundreds of enthusiastic players and get them up to speed on how we can help make them a stronger, faster, more skilled and confident player" says Coach Kevin Finneran, Director of the IMG Academy lacrosse program.
Fans were also introduced to Dartfish video analysis and shown footage from the Spring Break Camp and how each participant had a chance to analyze their shooting, footwork and stickwork.
"This aspect of our program is what makes us really stand out," said Assistant Coach Tony Ventiquattro.
The IMG Academy lacrosse program will be attending other lacrosse festivals and events including Greenwich (CT) Youth Lacrosse on May 7th and the NCAA Final Four on Memorial Day Weekend in Baltimore.