Jeffrey Meltzer earns Top Honors at AJGA Preseason Junior at Ocala!
April 19, 2010
by: The Leadblogger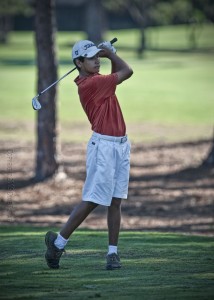 IMG Leadetter golfer, Jeffrey Meltzer, overcame a first round deficit of eight strokes to earn co-medalist honors, with Alex Slaton of Gainesville, Fla., at 3-over-par 147 on Sunday at the AJGA Preseason Junior at Ocala.
The AJGA Preseason Junior at Ocala hosted By Ocala-Marion County Sports Commission was a 36-hole stroke play event held at Golden Hills Golf & Turf Club. The 94-player field featured players from 13 states and 5 foreign countries. The Boys Division played Golden Hills Golf & Turf Club at 6,979 yards, while the Girls Division is played at 5,842 yards.
The Preseason Junior Series is a series designed specifically for first-time AJGA members or those members who have not yet been accepted to or participated in an AJGA event in the current calendar year and/or the previous calendar year.
Jeffrey started the day just thinking about a possible top-5 finish (since he was 8 shots back of the first round leader), but two chip-ins, one of which was for eagle, turned things around quickly.
"It was definitely unexpected," Jeffrey said on the win. "The chip-in on No.4 was huge. It started out like a regular round and then all of sudden I was 2-under-par."
Jeffrey, shot rounds of 75-72 and earned 2 AJGA exemptions with this win. Jeffrey was the 2009 IMG Academy Leadbetter golf program overall points Champion (based on Saturday tournaments).
Also, finishing in the Top 10 this past weekend was fellow IMG'er golfer, Byoung Jun Chung, from Argentina. Byoung Jun "BJ" finished in 9th place with rounds of 73-78.
In the Girl's divison, three Leadbetter golfers found themselves in the Top 10 at the end of the 36-holes. Third year IMG golfer, Shannon Pak, finished in 3rd place with rounds of 77-75, Gemma Dryburgh, of Scotland, finished in 5th place with rounds of 79-74 and Clara Teixeira of Brazil shot rounds of 79-76 and finished in 7th place.
Congrats to all of you on your fine play over the weekend.
To see complete results, check out the AJGA website at www.ajga.org